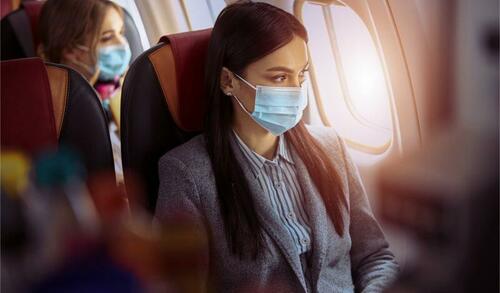 Why Is CDC Trying To Put A Mask On Your Face Again?
We know the wicked truth about Chairman Mao's "Let a Hundred Flowers Bloom." He said this in 1957 while inviting anyone to criticize the Communist Party. There were cheers all around and the criticisms were unleashed. This lasted six weeks, after which many of the biggest critics were shot. It was a bait and switch.
It's a brilliant tactic for evil regimes. Ferret out the enemy and then make them go away.
That's not exactly what happened this week but the analogy works. A judge in Florida this week struck down the Biden administration's transportation mask mandate. The opinion was highly technical and turned entirely on issues of administrative law. The judge ruled that the Public Health Service Act of 1944, the first ever to give the quarantine power to the federal government, did not authorize the imposition of universal mandates on what is really an article of clothing in the name of "sanitation."
Instead, what appeared to happen here was entirely arbitrary. The Biden administration wanted masks and the CDC imposed them, including with criminal penalties. For a full year, travelers have been hectored and threatened at every turn.
After the court decision, a hundred flowers bloomed in the form of air-born celebrations from coast to coast.
Will it last? Not if our rulers in DC get their way. --->READ MORE HERE
Nolte: White House Sues to Mask Air Travelers, Attends Maskless Correspondents Dinner:
White House Transportation Secretary Pete Buttigieg went the full-word salad when asked to explain why the same White House attending the maskless White House Correspondents Dinner is currently suing to force air, train, and bus travelers to wear masks.
The grilling, conducted by Fox News's Bret Baier, was in bounds, but because Democrats are not used to being challenged by the media, the normally slick Buttigieg looked like a deer in the headlights.
Gee, Pete, why is the Biden White House okay with 2,000 of America's wretched elite packing together in a hotel ballroom and not okay with everyday Americans being allowed to travel without those dirty, anti-science masks strapped across their face?
.@PeteButtigieg defends his scheduled appearance at a mask-free WHCD while the WH seeks to keep Americans masked while traveling: "Most of us understand the difference between a hotel ballroom and an airplane" pic.twitter.com/bXCVaWvp4j

— Tom Elliott (@tomselliott) April 28, 2022
Here was my favorite part of his answer… "Most of us understand the difference between a hotel ballroom and an airplane."
Do we? --->READ MORE HERE
Follow links below to relevant/related stories and resources:
Rand Paul: Fauci "Is A Man That Is Against Everything That America Stands For"
Medical experts question Kamala Harris' use of Pfizer pill for COVID treatment
USA TODAY: Coronavirus Updates
WSJ: Coronavirus Live Updates
YAHOO NEWS: Coronavirus Live Updates
NEW YORK POST: Coronavirus The Latest
If you like what you see, please "Like" and/or Follow us on FACEBOOK
here,
GETTR
here
, and TWITTER
here
.