Ukraine's Forces Sink Russian River Crossings, Inflicting Heavy Damage
Bridging water in combat is dangerous, complex and demands precise coordination, say veterans. Russian troops have failed repeatedly.
Bridging a river under enemy fire is one of the toughest tasks any land force can face. Russia is offering the world lessons in how not to do it, say Western combat veterans.
Since launching its large-scale invasion of Ukraine three months ago, Russia has sought to cross several rivers using temporary floating bridges so its troops could advance. Many of the attempts went badly.
Early in the war, Russian forces deployed pontoons to cross the Irpin River near Kyiv, seeking to seize the village of Moshchun and attack the capital. Ukrainian artillery destroyed several of the bridges, some with Russian vehicles on them. Moscow got a number of men and vehicles across to engage in heavy fighting, but not enough to seize the village, contributing to Russia's subsequent failure to take Kyiv.
Russian forces have recently tried repeatedly to cross the Siverskyi Donets River in the Donbas region of eastern Ukraine, in one attempt losing more than 80 vehicles during intense fighting, according to open-source estimates, or roughly equivalent to a battalion tactical group.
Western officers who have studied images of the failed crossing's aftermath say Russian troops involved appear to have ignored their own military doctrine and combat manuals, launching a hasty attempt at a maneuver that requires careful planning, extensive resources and strict oversight.
"All combat should be a highly orchestrated ballet of kinetic violence, humans, vehicles and aircraft…and a river crossing is one of the most complicated maneuvers," said retired Brigadier General Peter "Duke" DeLuca, who served in the U.S. Army Corps of Engineers and studied the Russian military for many years. "It all has to be coordinated to be effective, and we haven't seen the Russians do that at all in Ukraine." --->READ MORE HERE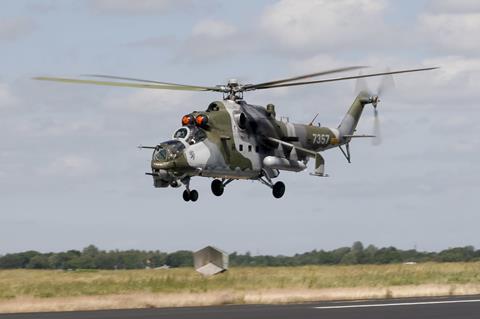 Matthijs van Wageningen/Creative Commons
Czech Republic sending attack helicopters to Ukraine:
The defenders of Ukraine are set to receive a cache of powerful new weapons, including attack helicopters from the Czech Republic.
The new round of military assistance was announced on 23 May by two of the United States' top defence officials: Secretary of Defense Lloyd Austin and General Mark Milley, the USA's senior-most uniformed officer.
Earlier in the day, the two men hosted a virtual meeting of their peers to discuss continued assistance to Ukraine. Defence chiefs from 47 countries were in attendance at the second meeting of the coalition, which has been dubbed the Ukraine contact group.
Austin thanked several European countries for arms donations pledged to Ukraine during the meeting, including the UK, Poland, Norway and Greece. But he singled out two others for particular praise.
"I'm especially grateful to Denmark, which announced today that it will provide a harpoon launcher and missiles to help Ukraine defend its coast," says Austin. "I'd also like to thank the Czech Republic for its substantial support, including a recent donation of attack helicopters, tanks and rocket systems." --->READ MORE HERE
Follow links below to
+++++relevant+++++
and related stories:
+++++Russia-Ukraine News LATEST UPDATES: (REUTERS) (AP) (NY POST) and (WSJ)+++++
+++++Russian soldier sentenced to life in prison in Ukraine's first war crimes trial+++++
+++++Putin survived assassination attempt two months ago: Ukraine military official+++++
Russian Diplomat to U.N. Resigns Over Invasion of Ukraine
Russia-appointed head of occupied Ukraine town wounded in blast
Ukraine suffers worst single military loss when 87 soldiers killed in barracks
Russian rocker Yuri Shevchuk charged after blasting Putin during concert
Starbucks exits Russia over Ukraine war, closes 130 stores
Ukraine calls for help to secure safe passage for food exports - BBC
Zelensky urges 'maximum' sanctions on Russia in Davos talk
Russia Pays Bond Coupons Ahead of Likely U.S. Payment Block
More than 6.5 million people have fled Ukraine, U.N. agency says
Colombia to train Ukrainian military on landmine removal
Turning Bucha's Bullet Holes Into Art
At Mariupol cemetery, a grieving mother ponders war's human toll
Ukraine Documents Damage to Hundreds of Cultural Heritage Sites
Azovstal fighters to face trial in breakaway region, Interfax reports, citing separatist leader
If you like what you see, please "Like" and/or Follow us on FACEBOOK
here,
GETTR
here
, and TWITTER
here
.