Roger Marshall: 'War Zone' at U.S.-Mexico Border 'Worse' than What I Saw at Poland-Ukraine Border:
Sen. Roger Marshall (R-KS), one of only 11 Senate Republicans who voted against a $40 billion aid package for Ukraine, says the "war zone" at the United States-Mexico border is "much worse" than what he witnessed at the Poland-Ukraine border.
While visiting the U.S.-Mexico border over the last few days, Marshall exclusively told SiriusXM Patriot's Breitbart News Daily in an interview that the "human tragedy" he has seen from human smuggling to drug trafficking is "the most threatening situation" facing Americans, not the war in Ukraine.
"We've already done more than all the rest of the world has done," Marshall said of his vote against spending another $40 billion in American tax dollars on the war in Ukraine.
"We have 107,000 American troops on the front NATO line … meanwhile, the biggest, the most threatening situation right now from a national security standpoint … is the southern border," he continued.
"We need to spend $25 billion right now to fix this border. I'm calling on Joe Biden to come down and see for himself what's really going on," Marshall said. "It's a human tragedy. This place turns into a war zone every night."
In Fiscal Year 2022, which began October 1, 2021, about 5,300 pounds of fentanyl have been seized at the border. Last year alone, the U.S. Drug Enforcement Administration (DEA) seized 9.6 million counterfeit pills laced with fentanyl. This is more than the number of counterfeit pills seized in 2019 and 2020 combined. --->READ MORE HERE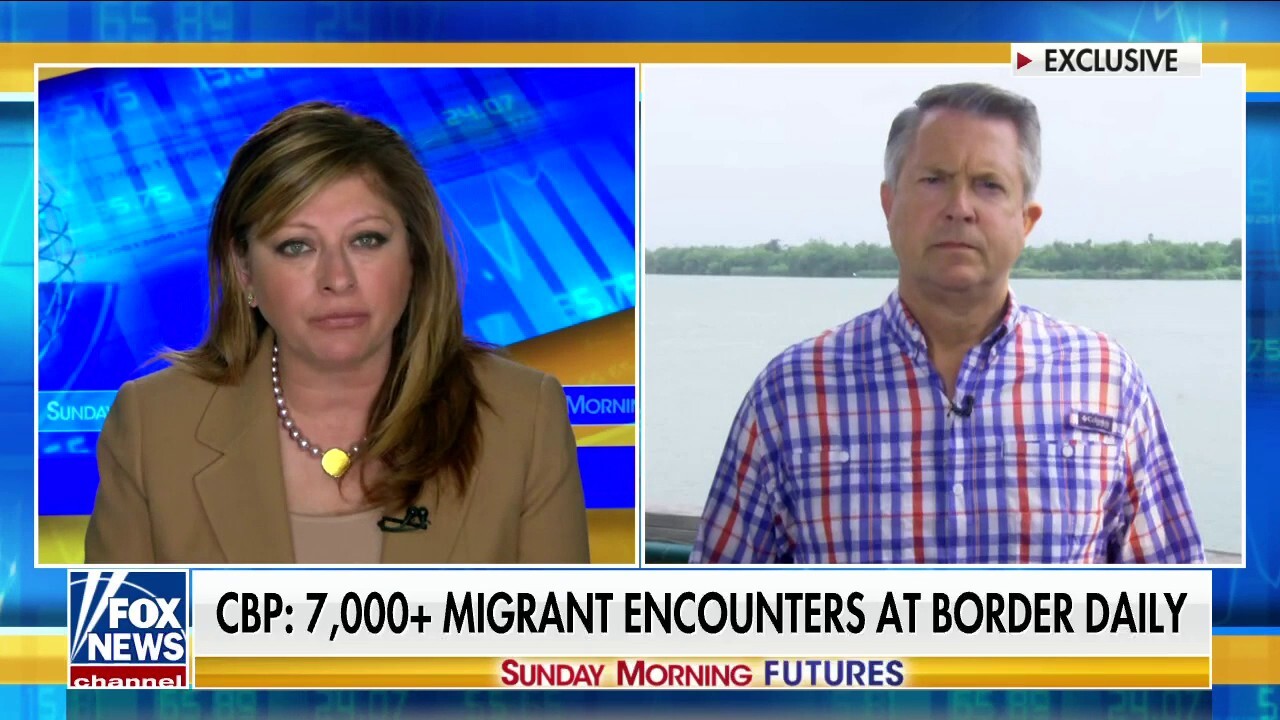 GOP Sen. Marshall: U.S.-Mexico Border 'Looks Like a War Zone':
This week on Fox News Channel's "Sunday Morning Futures," Sen. Roger Marshall (R-KS) called on President Joe Biden to visit the U.S.-Mexico border as the White House pushes to lift Title 42.
Marshall, who was visiting the border, described the scene as a "war zone every night." He said it was an "unsustainable crisis."
"Maria, this is a human tragedy here," Marshall emphasized. "At nighttime, it looks like a war zone. There's a sea of humanitarian crises here every evening. And every day, it's lived out as well. And I want to just shout out to the Border Patrol officers. They are doing an incredible job, the Department of Public Safety here in Texas. All of those people are doing their best, but they're just simply overwhelmed. This is an unsustainable crisis. It's a war zone every night. I'm calling on Joe Biden to come down here and see this for himself. And I don't mean do a flyby stop at the airport here in McAllen. He needs to come down; spend some time on the river." --->READ and WATCH MORE HERE
If you like what you see, please "Like" and/or Follow us on FACEBOOK
here,
GETTR
here
, and TWITTER
here
.