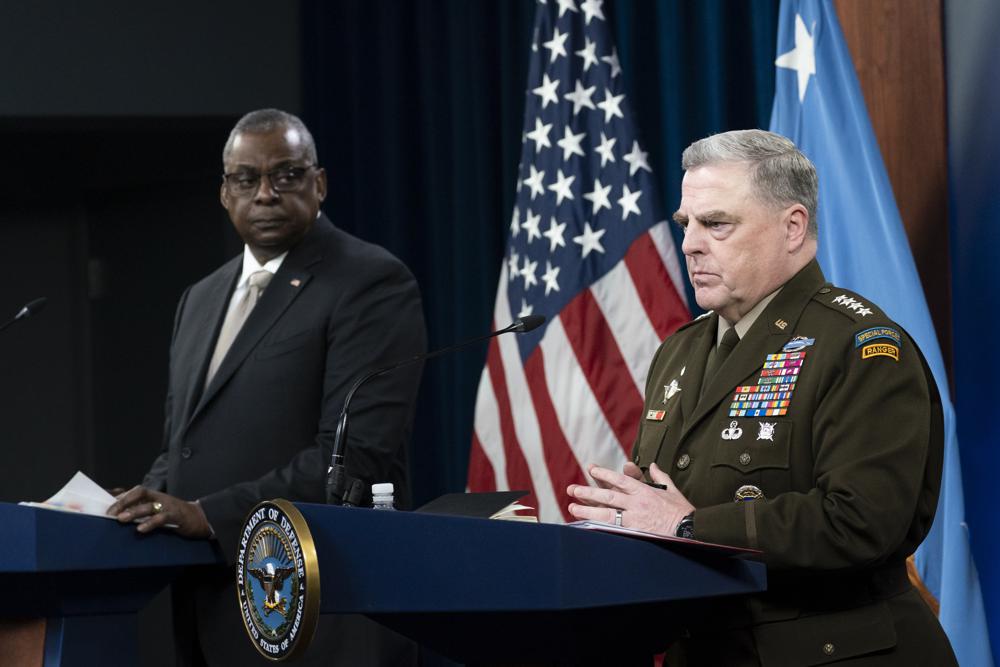 Pentagon says more high-tech weapons going to Ukraine:
Nearly 50 defense leaders from around the world met Monday and agreed to send more advanced weapons to Ukraine, including a Harpoon launcher and missiles to protect its coast, Defense Secretary Lloyd Austin told reporters.
And Gen. Mark Milley, chairman of the Joint Chiefs of Staff, said that "low-level" discussion is underway on how the U.S. may need to adjust its training of Ukrainian forces and on whether some U.S. troops should be based in Ukraine.
The U.S. withdrew its few troops in Ukraine before the war and has no plans to send in combat forces. Milley's comments left open the possibility troops could return for embassy security or another non-combat role.
The U.S. embassy in Kyiv has partially reopened and is staffing up again, and there have been questions about whether the U.S. will send a Marine security force back in to help protect the embassy or if other options should be considered.
Asked if U.S. special operations forces may go into Ukraine, which officials have insisted they are not doing yet, Milley said that "any reintroduction of U.S. forces into Ukraine would require a presidential decision. So we're a ways away from anything like that." --->READ MORE HERE
Danish anti-ship missiles expected to help Ukraine control its Black Sea coast:
Copenhagen's pledge of Harpoon anti-ship missiles and a launcher to Ukraine, announced by the United States on Monday, is the first sign since the Russian invasion in February that Kyiv will receive U.S.-made weapons that significantly extend its striking range.
Ukraine has been seeking more advanced weapons such as air defenses, anti-ship missiles and longer-range rockets, but so far the majority of aid has been in short-range systems like Javelin anti-tank weapons and artillery.
The Harpoons, made by Boeing Co. (BA.N), could be used to push the Russian navy away from Ukraine's Black Sea ports, allowing exports of grain and other agricultural products to resume.
U.S. Defense Secretary Lloyd Austin said he was "especially grateful to Denmark which announced today that it will provide a Harpoon launcher and missiles to help Ukraine defend its coast." read more
Reuters reported on Thursday the United States has been working to help transfer to Ukraine more anti-ship capabilities with a range of more then 100 kilometers as its ports are blockaded by ships and mines. --->READ MORE HERE
Follow links below to
+++++relevant+++++
and related stories:
+++++Russia-Ukraine News LATEST UPDATES: (REUTERS) (AP) (NY POST) and (WSJ)+++++
+++++Pentagon Weighs Deploying Special Forces to Guard Kyiv Embassy+++++
+++++U.S. still 'a ways away' from sending troops back into Ukraine, Joint Chiefs chairman says+++++
Putin brings Assad's barrel bomb experts to Russia to help with Ukraine: Report
Exclusive: Four EU countries call for use of Russian assets to rebuild Ukraine
Most Ukrainians oppose territorial concessions, poll shows
New Zealand says it will help train Ukraine forces in the UK
Invading forces deport over 230,000 Ukrainian children to Russia, Kyiv says
Abandoned Russian K-9 now working for Ukrain
One war, two worlds: Ukraine neighbours face shelling with defiance or despair
War Puts Large Share of Ukrainians at Risk of Poverty, U.N. Official Says
Tattoo marathon raises money for army as Kyiv begins to reawaken
After 3 months of war, life in Russia has profoundly changed
'They ruined everything': Fleeing the devastation in Ukraine
Number of Civilian Deaths Confirmed by Ukraine Reaches 4,600
Daily Life in Downtown Kyiv
Ukrainians show great interest in destroyed Russian military vehicles exhibition in Kyiv
If you like what you see, please "Like" and/or Follow us on FACEBOOK
here,
GETTR
here
, and TWITTER
here
.