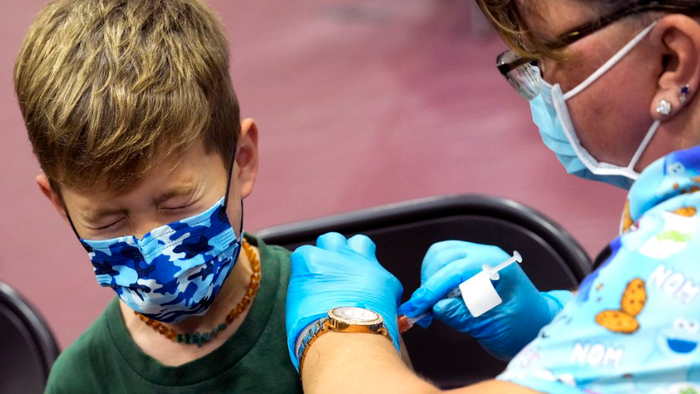 New COVID Bill Fines Parents For Unvaxxed Kids And Doubles Income Taxes:
An absurd COVID-19 bill by radical leftist Road Island Senator Samuel W. Bell says that residents who refuse the vaccine and its booster shots are subjected to fines and pay more income tax unless they receive an exemption.
Bell introduced Rhode Island Senate Bill S2552 on March 1. As of last week, the bill had not been passed into law is currently in review by the Senate Health and Human Services committee.
S2552 states eligible Rhode Island residents would have to be vaccinated against COVID. If they reject, they could face a $50 monthly fine and pay double the state income tax. There are also fines for unvaccinated children under the age of 16 that would be imposed on the parents. Text from the bill reads:
This act would mandate all residents sixteen (16) years or older to be vaccinated against COVID-19. If a resident is under sixteen (16) years of age, the resident would be required to be immunized against COVID-19, with the responsibility for ensuring compliance falling on all parents or guardians with medical consent powers... --->READ MORE HERE
Lockdowns Drove Tens of Thousands of Kids into 'Clinical Depression' – Study:
Tens of thousands of kids in the United Kingdom have been driven into clinical depression by coronavirus lockdowns, a study has found.
Lockdowns hoping to curb the spread of the Chinese coronavirus have driven tens of thousands of kids in the United Kingdom to clinical depression, a study published on Wednesday has suggested.
The study's findings mirror those of a number of other investigations which found that children have been negatively affected as a result of harsh COVID-19 restrictions, which saw young people's activities heavily restricted for an extended period of time.
According to the paper published in the Royal Society Open Science journal, children attending secondary schools in the United Kingdom found themselves suffering more from clinical depression as a result of COVID clampdowns.
Researchers found that 27.1 per cent prevalence of depression among their thousands-strong sample, which they say represents a notable increase from where they would have expected the percentage to be had the pandemic never occurred.
Overall, The Telegraph reports that this increased percentage means that 60,000 more youngsters were driven into clinical depression by the lockdown. --->READ MORE HERE
Follow links below to relevant/related stories and resources:
NYU prof alleges Shanghai campus students are committing suicide over COVID lockdown
More kids were hit by upper airway infections during COVID omicron surge, studies show
USA TODAY: Coronavirus Updates
WSJ: Coronavirus Live Updates
YAHOO NEWS: Coronavirus Live Updates
NEW YORK POST: Coronavirus The Latest
If you like what you see, please "Like" and/or Follow us on FACEBOOK
here,
GETTR
here
, and TWITTER
here
.