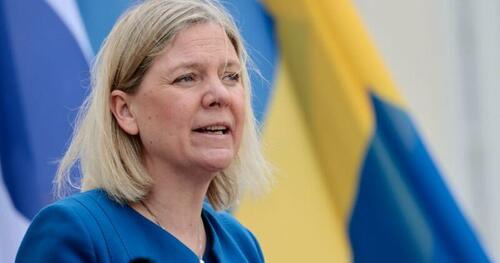 Swedish Prime Minister Says Integration Has Failed After Migrant Riots​:
Sweden's failure to properly integrate large numbers of migrants has led to the creation of parallel societies and gang violence, according to left-wing Swedish Prime Minister Magdalena Andersson.
Andersson made the comments in the aftermath of nationwide riots by migrant gangs over the Easter weekend that left a hundred police officers wounded.
Sweden's approach to Islamic extremism and its failings in accommodating large numbers of migrants is the primary cause of the disorder, according to the Prime Minister.
"Segregation has gone so far that we have parallel societies in Sweden. We live in the same country, but different realities," said Andersson.

"Integration was poor, and alongside, we have experienced intense immigration. Our society was too weak, while money for the police and social services too little," she added. --->READ MORE HERE
Religious Riots Explode in Sweden:
Riots exploded in Sweden on April 14 after former politician and anti-Islamic figurehead Rasmus Paludan announced he would burn a Koran at an upcoming rally in the city of Linköping. The rioting, looting and burning that followed his announcement continued for two weeks. Facing yet another wave of violence by Islamic immigrants, Swedes are turning against immigration, as are an increasing number of people across Europe.
Shouting "Allahu akbar," rioters threw rocks at police and firefighters and burned dozens of police and private vehicles. The riots occurred in Stockholm and the nearby cities of Linköping, Örebro and Norrkoping, as well as the southern city of Malmö. Around 100 police officers have been injured, some severely. In Malmö, rioters set a primary school on fire.
Though the rioters were mostly young men, they weren't the only ones who took part. "Mothers and children threw stones together. The mothers patted the children and cheered," stated the chief prosecutor of Linköping.
Paludan is well known for his aggressive rhetoric and public burnings of the Koran. While his actions are certainly provocative, the violent response from Sweden's Islamic community has exposed a massive challenge facing Sweden and all of Europe. --->READ MORE HERE
Follow link below to a relevant story:
Sweden facing a crisis of gang violence
If you like what you see, please "Like" and/or Follow us on FACEBOOK
here,
GETTR
here
, and TWITTER
here
.