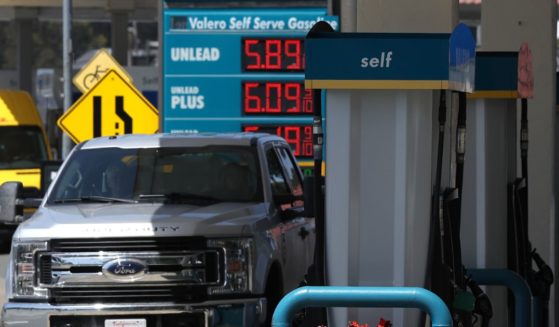 Americans Wake Up to Find Gas Prices Have Hit a New Record High:
Gas prices in the U.S. just hit a record high and are now almost 50 percent higher than a year ago.
The national average price for a gallon of regular unleaded gasoline was $4.374 Tuesday, according to AAA. That was an increase of four cents in one day and 17 cents in the past week, wiping out a dip that had taken place in April.
According to AAA's figures, gas prices are 47.4 percent higher than a year ago, when the national average was $2.967 per gallon.
The price of diesel fuel – the lifeblood of the trucks that haul goods across the county – also hit a new high Tuesday, reaching $5.550 per gallon.
California had the highest average price per gallon at $5.841 per gallon, with some counties having an average price topping $6 per gallon, AAA reported.
The rise in prices — amid overall inflation that hit 8.5 percent in March — comes despite action from President Joe Biden to release a million barrels of oil a day from the nation's Strategic Petroleum Reserve and to allow more ethanol in gasoline, according to The Washington Post.
Patrick De Haan, head of petroleum analysis at GasBuddy, said there is little chance of a decline in prices. --->READ MORE HERE
National Diesel and Gas Prices Rocket to Record Highs: 'Joe Biden Is to Blame':
The national average price for both a gallon of regular gas and diesel broke all-time records Tuesday – two months after gas prices shattered records on five consecutive days.
The national average price for a gallon of regular gas has now registered at a record-high $4.37, while diesel fuel averaged at $5.55 – also an all-time high, the American Automobile Association (AAA) reported. California had the highest average of any state for regular, which rang in at $5.84, while Georgia averaged the lowest regular prices at $3.90.
The current highs follow a five-day period in March in which gas prices repeatedly eclipsed record highs on consecutive days, Breitbart News previously reported.
A halt in price increases coincided with a "record-setting release of oil from emergency reserves," CNN noted, but what relief the move may have created for consumers was short-lived, as prices are climbing to new highs just months later. --->READ MORE HERE
Follow links below to related stories:
Gas Prices Surge to Another High
NY gas prices hit record high as inflation slams wallets
US gas prices back near record highs, hammering motorists
If you like what you see, please "Like" and/or Follow us on FACEBOOK
here,
GETTR
here
, and TWITTER
here
.