US higher education 'fights' COVID with . . . superstition:
Boy, is US higher education full of idiots: Columbia University, affiliated Barnard College and Pace University, among other schools, have all started requiring masking indoors again.
Columbia-Barnard only scrapped the mandate on March 14, so students got less than a month to breathe free, and now will be muzzled through June.
And all because campus administrators deem it more important to virtue-signal than to follow the actual science. They blame an uptick in COVID cases, though COVID poses no significant risk to their fully vaccinated student bodies.
Plus, as noted above, case numbers stopped being a useful indicator of coronavirus perils at least a year ago. --->READ MORE HERE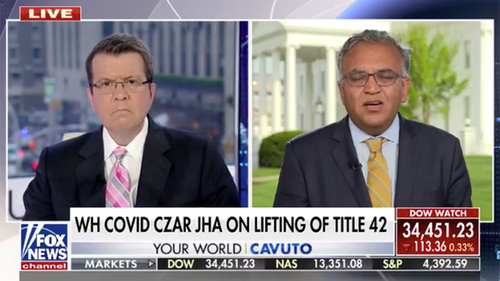 Biden COVID Czar: Little Kids Should Still Wear Masks Because CDC Says So:
The Biden Administration's 'COVID Coordinator' declared Thursday that little kids should still be wearing masks in school because the 'experts' say so, but claimed that lifting all restrictions for migrants crossing the border is different.
Dr. Ashish Jha claimed that Biden lifting the Title 42 health authority, instated by President Trump, while simultaneously extending mask mandates for Americans makes sense because of 'different standards'.
Fox News anchor Neil Cavuto said "I'd like to address this whole Title 42 situation with you, doctor. Because there seems to be a different standard for migrants or those at the border, where we might loosen that at a time when we are tightening requirements here."
"I'm just wondering your thoughts on that and whether Americans are right to feel that there's a double standard," Cavuto asked.
Jha responded, "The way I look at it is, first of all, if you look across the country, if you look at the CDC map, 97% of the country is in green. There are not very many restrictions. And the CDC scientists determined, on Title 42, that it was an appropriate time, from a public health point of view, to lift the Title 42 restrictions."
OK, CDC says so. Any science to back it up?
No, look at the big map. OK. Carry on. --->READ MORE HERE
Follow links below to relevant/related stories and resources:
'Long social distancing' could keep US workers on sidelines indefinitely
GOP Rep. Cammack: 'Hypocrisy at Its Finest' to Kill Title 42 While House Still Proxy Votes Due to COVID
USA TODAY: Coronavirus Updates
WSJ: Coronavirus Live Updates
YAHOO NEWS: Coronavirus Live Updates
NEW YORK POST: Coronavirus The Latest
If you like what you see, please "Like" and/or Follow us on FACEBOOK
here,
GETTR
here
, and TWITTER
here
.