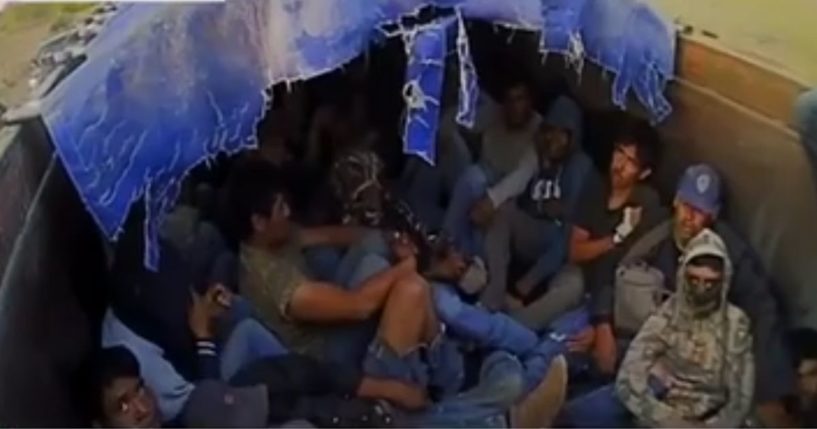 Shock Statistic Reveals How Many Illegals Have Slipped Past Border Patrol Into America:
A disturbing new statistic reveals how many illegal aliens are infiltrating the United States without being caught.
Fox News border reporter Bill Melugin revealed that Customs and Border Protection has accounted for 300,000 'gotaways' since the start of the 2022 fiscal year in October.
Melugin cited three sources within the agency.
BREAKING: Three high level CBP & Border Patrol sources tell me there have been over 300,000 recorded gotaways since October 1st, including more than 62,000 just in the month of March. That's 2,000 per day.
I'm told the true number is even higher, these are only *known*. @FoxNews

— Bill Melugin (@BillFOXLA) April 1, 2022
The overwhelming majority of illegal aliens who infiltrate the border hand themselves over to US authorities, expecting to receive amnesty from the government and legal authorization in the immigration court system.
'Gotaways,' or illegals who evade any arrest or detention, are even more dangerous to the American public.
There's no way to screen them for criminal connections, terrorist affiliations or smuggling of drugs such as fentanyl. --->READ MORE HERE
62,000+ illegal immigrants got past Border Patrol agents in March: sources
More than 62,000 illegal immigrants evaded Border Patrol agents in March, averaging about 2,000 a day, according to multiple Customs and Border Protection (CBP) sources – showing the extent to which Border Patrol agents are already being overwhelmed by the massive number of migrants trying to get into the United States.
Per those same sources there have been more than 300,000 known "gotaways" -- migrants who were not apprehended or turned themselves in and who got past agents -- since fiscal year 2022 began on October 1st. For comparison, former Border Patrol Chief Rodney Scott said there had been approximately 400,000 gotaways in the entirety of FY 2021.
Known gotaways are migrants that are seen on cameras, sensors and other means but there is no manpower to get to. Agents will also used a method called "cutting sign" in which they use a chain link fence to smooth out the surface of a dirt road – coming back later to observe foot prints.
The sources point out that the true number of getaways is likely much higher, because these numbers only account for the ones they know about. The sources told Fox that Del Rio Sector has the most gotaways with about 700 a day, followed by Tucson Sector with over 500 a day.
The massive numbers are the latest indicator of a surging migrant crisis on track to eclipse last year, as the Biden administration reportedly moves to end Title 42 public health protections that allow agents to quickly expel migrants at the border. Title 42 was used to expel more than half of the more than 164,000 migrants encountered in February. The 164,973 encounters was up dramatically from 101,099 in Feb. 2021 – and the number is expected to rise in the months ahead. --->READ MORE HERE
If you like what you see, please "Like" and/or Follow us on FACEBOOK
here,
GETTR
here
, and TWITTER
here
.