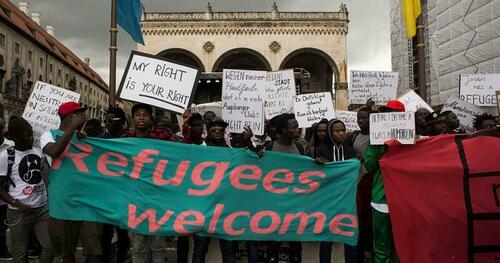 "Someone Is Making A Fortune" Out Of Giving Non-Ukrainian Migrants Fake Ukrainian Passports; Report
According to a report by German newspaper Bild, "someone is making a fortune" out of giving non-Ukrainian economic migrants fake Ukrainian passports so they can slip into western Europe and get free welfare.
More than 50 migrants clashed on Saturday night during a riot at a refugee facility in Munich as chairs and paving stones were used as weapons, prompting a huge police response.
Bild cited a police source who said the overwhelming majority of the "refugees" were from the Sinti and Roma ethnic groups and that, "Only a fraction are really Ukrainian refugees."
"They have brand-new Ukrainian passports, which are also real. Someone in Ukraine is making a fortune right now," the newspaper quoted the police representative as saying.
The fight at the asylum center broke out "after authorities attempted to separate some of the individuals who have scabies," reports ReMix News.
As we previously highlighted, according to reports out of France, as many as a third of so-called 'Ukrainian refugees' entering European countries aren't Ukrainian or refugees. --->READ MORE HERE
Camp of Ukrainians at the U.S.-Mexico border swells, as more refugees arrive:
Hundreds of Ukrainians are camping in the Mexican border city of Tijuana hoping to seek U.S. asylum, a surge in arrivals just days after the Biden administration said the United States would accept up to 100,000 Ukrainians fleeing from war.
Many of the Ukrainians escaping the Russian invasion of their home country have flown to the U.S.-Mexico border hoping officials will allow them in so they can reunite with U.S. relatives or friends.
People are spread out on blankets and lawn chairs alongside overstuffed suitcases on a patch of grass near the international port of entry. Some are sleeping in tents and under tarps.
U.S. volunteers in neon vests - some Ukrainian-Americans who traveled to Tijuana after hearing about the arriving refugees - are collecting names on a handwritten waitlist to keep track of arrivals.
While some 600 Ukrainians are camping near the border entry around 500 more are staying in hotels in the city, said Enrique Lucero, Tijuana's migration affairs director, citing the list kept by volunteers. About 40% of the people are children, he added. --->READ MORE HERE
Follow link below to a related story:
Hundreds of Ukrainian refugees massing at US-Mexico border
If you like what you see, please "Like" and/or Follow us on FACEBOOK
here,
GETTR
here
, and TWITTER
here
.