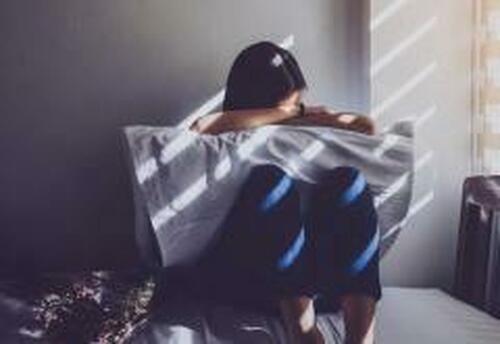 It Was The Lockdowns, Not The Pandemic That Created The Havoc:
It may be years before we fully realize the ramifications of the lockdown policies governments around the world have imposed on their citizens in response to covid-19, but evidence of the costs is starting to trickle in.
A recent study conducted by the Centers for Disease Control and Prevention (CDC) surveyed thousands of high school students on the effects of the pandemic.
"Since the beginning of the pandemic," the study reports, "more than half of students found it more difficult to complete their schoolwork (66%) and experienced emotional abuse by a parent or other adult in their home (55%)," which correlated heavily with students who "experienced insecurity via parental job loss (29%), personal job loss (22%), and hunger (24%)."
A related CDC study, released the same day, examined the effects the pandemic has had on the mental health of high school students.
It found that "during the 12 months before the survey, 44.2% experienced persistent feelings of sadness or hopelessness, 19.9% had seriously considered attempting suicide, and 9.0% had attempted suicide."
These findings should be no surprise. Only a few months into the pandemic, the CDC's morbidity and mortality report surveyed people of all ages regarding substance abuse and suicidal thoughts, and young people showed the most dramatic increase compared with precovid surveys. This report was all but ignored, of course, as the demagogues in politics and the media predicted Armageddon if the world didn't embrace their draconian isolation policies. --->READ MORE HERE
The Zombie Vaccine Mandate That Won't Die:
A federal appeals court in New Orleans ruled that a Texas federal judge who blocked the vaccine mandate for federal employees in January did so illegally, thus resuscitating Joe Biden's order that all federal employees must be vaccinated or face disciplinary action.
The New Orleans-based 5th Circuit Court of Appeals, in a 2-1 decision, found that Jeffrey Brown, a federal judge in Texas and an appointee of President Donald Trump, did not have the standing to make such a ruling.
The question in the case was how broadly the Civil Service Act of 1978 should be interpreted. The New Orleans appeals court ruled that Judge Brown had overstepped his authority.
"We conclude that the CSRA precluded the district court's jurisdiction," the two Clinton appointees, Judge Carl Stewart and Judge James Stewart wrote. "Accordingly, the plaintiffs' claim for preliminary injunctive relief fails because they have not shown a substantial likelihood of success on the merits." --->READ MORE HERE
Follow links below to relevant/related stories and resources:
DC gala was COVID super-spreader event, Biden delays correspondents' dinner RSVP
The debate over 2nd COVID boosters
USA TODAY: Coronavirus Updates
WSJ: Coronavirus Live Updates
YAHOO NEWS: Coronavirus Live Updates
NEW YORK POST: Coronavirus The Latest
If you like what you see, please "Like" and/or Follow us on FACEBOOK
here,
GETTR
here
, and TWITTER
here
.