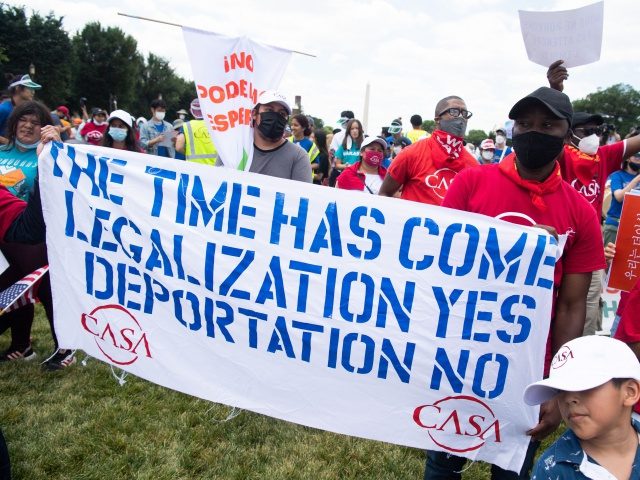 Saul Loeb/AFP/Getty Images
Democrats and their business-backed allies are hinting they want the Republicans to okay more legal migration in exchange for keeping border barriers against illegal migration.
"I don't think there's any incentive for the Republicans to deal," amid Democratic threats to lift the Title 42 border barrier against migration, responded Jessica Vaughan, the policy studies director at the Center for Immigration Studies.
"The Republicans know enough to insist on a clean extension of Title 42, not one encumbered with the Democrats' wish list items," she said, adding:
The Democrats might think that they could get something in exchange for allowing a Title 42 extension. But I think it would be a miscalculation. I don't think it's a good look for them to be trying to put a price on Title 42 extension when most of the public wants it extended. That would be seen as obstructing or complicating the continuation of Title 42.
Some Democratic supporters indicate they have little leverage. "Democrats are terrified that ending Title 42 enforcement will produce an all-out border crisis just in time for the midterm elections," Democratic strategist William Galston wrote in the April 19 Wall Street Journal.
"The deadline for the lifting of Title 42 is a month away [May 23] — but the Biden administration is under enormous pressure to stall the timeline amid a Democratic mutiny," TheHill.com reported on April 22.
Yet some Republicans are signaling they will work with Democrats to pass a law that would convert the Title 42 illegal inflow into more of the legal immigration that benefits business groups and donors at the expense of ordinary voters:
Still, the GOP hints about agreeing to a deal may only be rhetorical concessions to donors and Democrats and are not intended to result in any deal.
The Democratic hints are thrown out whenever they are asked about their plan to open the borders in May by lifting the Title 42 border barrier against epidemics.
"Immigration in our country is broken," Jennifer Psaki said on April 20 when she was asked about the administration's plan to remove the Title 42 barrier. She continued:
Read the rest from Neil Munro
HERE
If you like what you see, please "Like" and/or Follow us on FACEBOOK
here,
GETTR
here
, and TWITTER
here
.