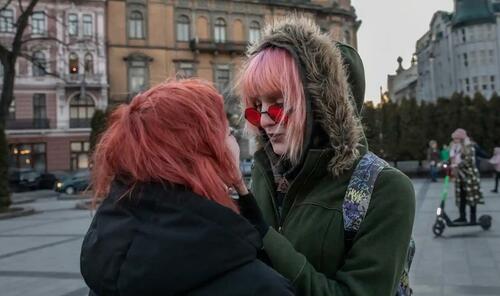 Ukraine Blocks Trans Women Refugees: "They Are Men, Must Go Back & Fight":
The Ukrainian government is refusing to allow transgender women to leave the country along with the millions of women and children refugees who have been streaming into Poland and other European nations. Instead, Ukrainian border guards are turning them back and forcing them to return home to join the fight.
Their reasoning might sour some trans activists in the West: Ukraine's martial law requires all biological males between the ages of 18 and 60 to remain in the country and fight. And it makes no exceptions for trans women.
Even trans women who have been widely accepted by their communities as woman still carry passports identifying them as males, which is what border guards see when they try to cross the border. In many cases, trans women who have tried to flee have been turned back, according to the Italian newspaper La Corriere della Sera, Italy's largest-circulation newspaper.
The paper quoted a trans woman who shared her experience at the hands of the guards: "They are men...they must turn back and fight." --->READ MORE HERE
'You're a Guy… Go to War' – Fleeing Ukrainian Trans Woman Turned Back at Border:
Another transgender woman — born as a biological male — has been turned back by Ukrainian officials at the Polish border and told to fight for the country.
Transgender individuals have been legally recognised in Ukraine since 2017, however, despite being allowed to change their legal gender, the Ukrainian border force has reportedly been carrying out their own physical gender inspections in order to determine if people will be permitted to flee the country or be banned from leaving the country under the martial law restrictions which require all Ukrainian men aged between 18 and 60 to stay and fight Russia.
Judis – an individual who was turned away by border guards last week – described to left-wing British newspaper The Guardian being inspected by two male guards at the Polish border in a private room
The border guards allegedly told Judis, "you're a guy, so get the hell out of here", and that Judis should be "grateful they didn't call the police", even though Judis claims to have a "legally valid document" that has "female" as the listed gender.
"Go to the war", the border guards insisted and highlighted that "more than 3 million people had already fled the country" so they wouldn't be letting Judis out. --->READ MORE HERE
If you like what you see, please "Like" and/or Follow us on FACEBOOK
here,
GETTR
here
, and TWITTER
here
.