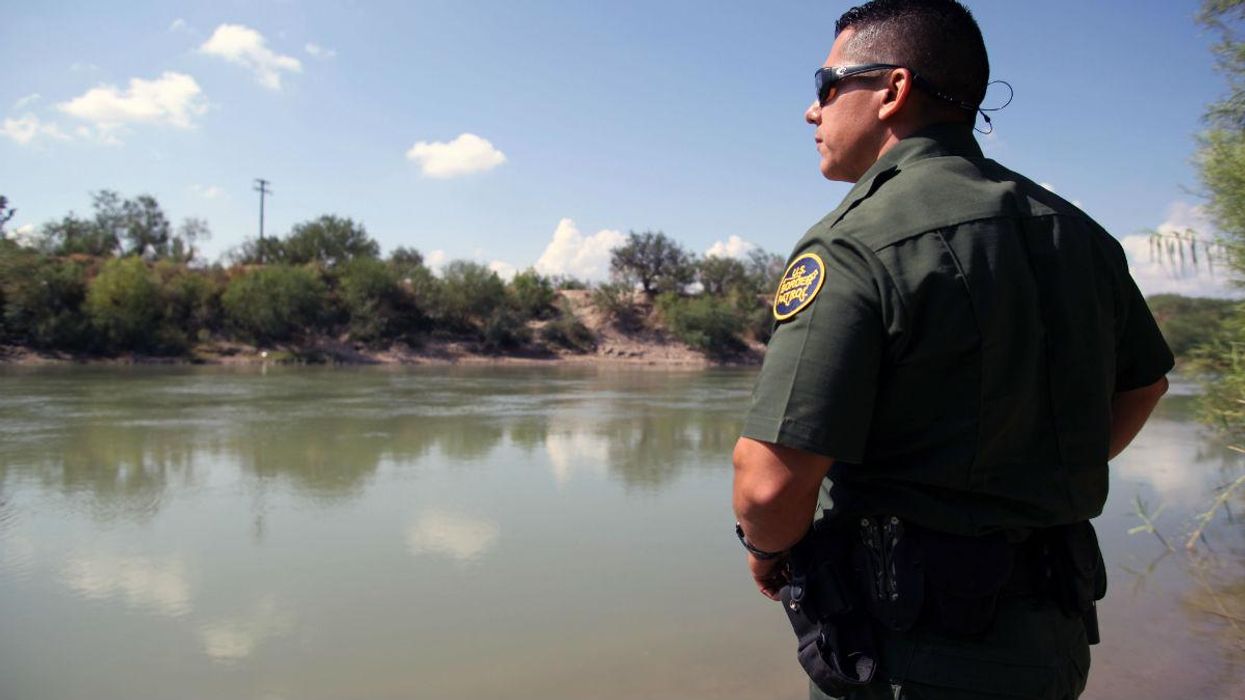 vichinterlang/Getty Images
We have the wealthiest, most sophisticated and brutal cartels at our border who surveil our side of the border with cutting-edge technology and bring over millions of impoverished aliens, thousands of dangerous criminals and gang members, and drugs killing over 100,000 Americans a year. Perhaps if we renamed Texas or Arizona "Ukraine," we'd get Republicans to finally care about the issue.
It's not that Putin hasn't violated human rights and invaded a sovereign nation. It's that the testosterone levels of GOP politicians go from 0 to 100 instantaneously when discussing the sovereignty of every nation but our own. Our government continues to refuse to release this year's ICE immigration enforcement report, but the preliminary numbers paint a shocking picture.
NEW: Prelim ICE data shows a massive drop in deportations in FY '21 compared to previous years, despite much higher encounters.

FY 21: 55,590 deportations
1.7 million encounters

FY 20: 185,884 deportations
458,000 encounters

FY 19: 267,258 deportations
977,000 encounters

— Bill Melugin (@BillFOXLA) February 10, 2022
BREAKING: In a federal court filing obtained by @FoxNews, DHS reports 153,941 migrant encounters in January, almost doubling Jan. '21 (78,414) and more than quadruple Jan. '20 (36,585).
DHS also reports 62,573 migrants were released into U.S. just last month alone. @FoxNews pic.twitter.com/RiEPKVsQi3

— Bill Melugin (@BillFOXLA) February 16, 2022
We are on pace for roughly 700,000 illegal aliens to be released into our country in one year. Moreover, this open invitation has allowed the cartels to strategically distract our agents with babysitting while smuggling in thousands of people who are even more problematic. Consider the magnitude of Biden's invitation to invade America. Look at the percentage increase in Border Patrol apprehensions of categories of criminals since Biden took office: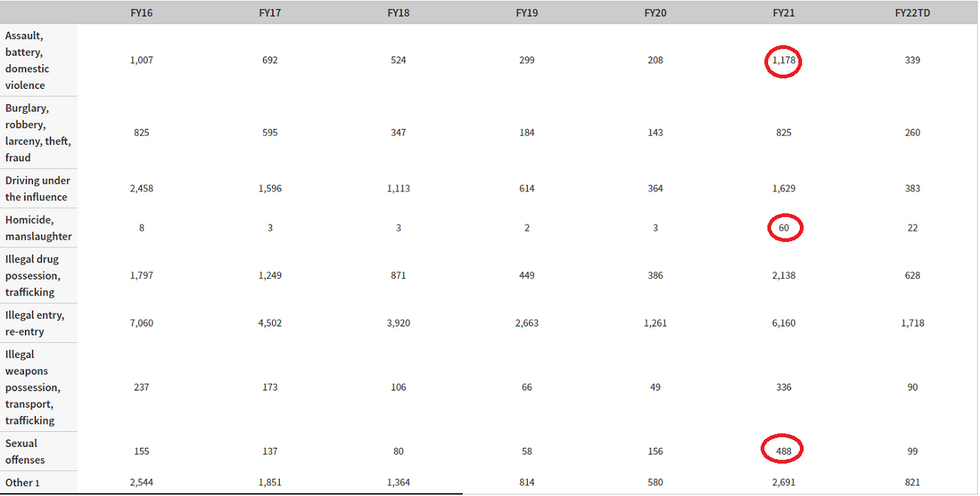 Notice the jump in apprehensions of convicted murderers and sex offenders. Now consider the fact that those people pay the cartels a significant sum of money to be strategically and surreptitiously crossed. Given their successful business model, it's hard to imagine CBP apprehending more than a tiny fraction of these dangerous criminals. Every boatload of fake refugees our agents are forced to deal with is a strategic ploy for the cartels to cross over dangerous individuals. That is an invasion.
We will never know the full scope of the number of dangerous criminals who enter our country, but we can begin to quantify how much it affects our safety by looking back during the Trump administration when they were still apprehending them inside our country. If you go back to FY 2018, ICE apprehended criminal aliens who together racked up 542,798 criminal convictions and arrests. The numbers include 2,028 homicide offenses, 5,562 robberies, 11,766 weapons offenses, 50,753 assault charges, 76,585 dangerous drug charges, 80,730 DUIs, and over 12,000 sexual offenses.
Just ponder for a moment the immeasurable carnage caused by our senseless disregard for sovereignty and the number of nameless victims the media will never spotlight. This data doesn't include those criminal charge categories that had fewer than 1,000. Only 29% of those were unconvicted charges, which likely means that the main focus of ICE removal operations, understandably so, is on convictions because they focus on the prisons and jails. Which means there are likely many more arrested for crimes who are not apprehended by ICE.
Read the rest from Daniel Horowitz
HERE
If you like what you see, please "Like" us on Facebook either
here
or
here
. Please follow us on Twitter
here
.