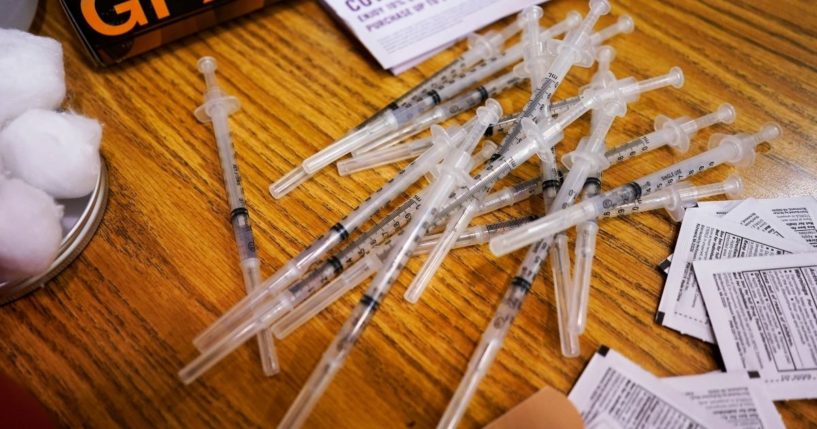 Extraordinary Thing Happening as Demand for Vaccine Collapses in Face of Massive Supply:
Coronavirus vaccines that were paid for to go into the arms of Americans are going down the drain — or into a landfill — now that many places in America have more doses than people who want them.
About 9.5 percent of the doses shipped from the federal government have been wasted, according to the Centers for Disease Control and Prevention. That amounts to about 65 million doses, according to the Associated Press.
The numbers vary by state, with nearly 1.5 million doses in Michigan, 1.45 million in North Carolina, 1 million in Illinois and almost 725,000 doses in Washington going to waste.
An AP estimate puts California's level of wasted doses at 1.4 million.
As the American market sags, drug companies are looking abroad. Officials said it is impractical to send unused vaccine doses abroad.
"Pivoting to what's happening now, you have much more production and distribution to low-income countries," said Dr. Joseph Bresee, who directs the COVID-19 Vaccine Implementation Program at the Task Force for Global Health in Decatur, Georgia.
"The issue of some stockpiles in the U.S., Germany and Japan, that are not redistributed to sub-Saharan Africa, it's less of an acute problem now because vaccine production and distribution is in high-gear right now serving those low-income countries." --->READ MORE HERE
How Pandemic-Era 'Stimulus' Screwed Americans While Boosting The Rich:
U.S. inflation is nearing levels not seen since the 1970s and early 1980s, at 7.5 percent year-over-year as of January, the largest rise in four decades. The issue is a major concern for voters, and Democrats face historic midterm losses. Inflation has even killed the Biden agenda thus far—Sen. Joe Manchin's primary reason for nixing "Build Back Better," a mess of largely corporatist priorities from a disjointed Democratic base, was his fear that it would push up prices further.
The left, however, is making a ridiculous effort to say that inflation is not a problem or even good for working-class Americans. CNN has run articles to this effect. New York Times writer Sarah Jeong says inflation concerns are "driven by rich people … because their parasitic assets aren't doing as well as they'd like and they're scared" that government stimulus—supposedly directed at the bottom half of earners—is why.
The idea that somehow government spending benefits the poor or working-class more than the rich is ridiculous. Just look at the stimulus since 2020, and its effects.
Stimulus Directly Caused the Current Inflation
Inflation took off in the second quarter of 2021, after a new Democratic Congress poured a $2 trillion in federal overspending they called "stimulus" on an economy that had already received a combined $2.8 trillion in stimulus in 2020. Republicans can blame Democrats, with some justification, but the seeds of higher inflation were already sown.
History should judge the federal government's pandemic response harshly. A several-week lockdown may have been acceptable without hindsight, given concerns about mass deaths and an overwhelmed medical system. But as soon as the virus was known to be much less deadly than feared, and that there was no great strain on the medical system, the federal government should have punished states needlessly maintaining activity restrictions. --->READ MORE HERE
Follow links below to relevant/related stories and resources:
DeSantis tells high school students to toss their 'ridiculous masks'
Working from home easier for men than women: study
USA TODAY: Coronavirus Updates
WSJ: Coronavirus Live Updates
YAHOO NEWS: Coronavirus Live Updates
NEW YORK POST: Coronavirus The Latest
If you like what you see, please "Like" us on Facebook either
here
or
here
. Please follow us on Twitter
here
.