Convoy protesting Covid mandates does D.C. circuit:
A large group of truck drivers who object to COVID-19 mandates drove two loops around the beltway surrounding Washington, Sunday, deliberately moving slowly to impact traffic and make their feelings known to lawmakers in the nation's capitol.
People crowded onto overpasses, waving at the "People's Convoy" and holding signs and American flags. Within the convoy, there were tractor-trailers with horns blaring and some recreational vehicles and pickup trucks occasionally going by, mixed with the normal traffic on Interstate 495 in Silver Springs, Md.
The convoy was moving normally — albeit slowly — and while some congestion was noted, news outlets reported traffic was able to flow around the convoy. Many vehicles had American flags, while some flew Don't Tread on Me banners.
"We're not even sure we can call it a convoy any more because it's so dispersed among routine traffic at this point," Virginia State Police spokeswoman Corinne Geller told The Washington Post.
Protesters staged at the Hagerstown Speedway in Maryland during the weekend before heading down a single lane of Interstate 81. Their plan was to drive onto the Capital Beltway, circle it twice and then return to Hagerstown. --->READ MORE HERE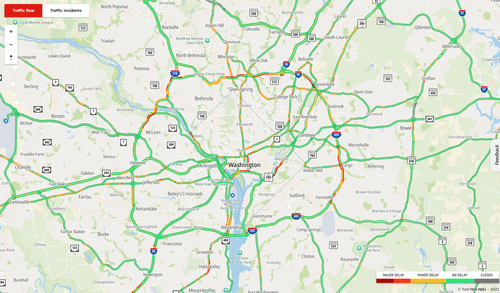 Capital Beltway Hit With Delays As People's Convoy Truck Protest Rolls In:
Two hours ago, the first wave of the "People's Convoy" entered the Capital Beltway encircling Washington, D.C. At the time, traffic data supplied by TomTom showed the 64-mile loop around the metro area was without congestion, but that has all changed.
TomTom shows "major" and "minor" delays throughout the highway stretch.
Twitter users confirm TomTom's data, as one person said: "Got caught in this mess. DC trucker convoy - GTFOH!!!"
Here's what others are reporting on the ground.
The People's Convoy circles the DC beltway after its cross-country journey that began Feb 23 in CA

Organizer Brian Brase told me there's no (official) plan for the convoy to enter DC: "Truck drivers by nature try to take care of communities, not disrupt them" #TruckerConvoy2022 pic.twitter.com/rYxSt5VQId

— Julia Jester (@JulesJester) March 6, 2022
As a truck convoy entered the D.C. suburbs, onlookers gathered on overpasses. Some held American flags. Latest updates and more from Chopper4: https://t.co/JIb767djM0 pic.twitter.com/rG1RbrJhO7

— NBC4 Washington (@nbcwashington) March 6, 2022
Convoy in DC #convoy #dcbeltway pic.twitter.com/zNFOtT6ysh

— Angela (@Angela12454195) March 6, 2022
--->LOTS MORE HERE
Follow links below to relevant/related stories and resources:
FREEDOM CONVOY LIVE
Huge Turnout at New Egypt Speedway for Trucker Convoy to Protest Covid Mandates
USA TODAY: Coronavirus Updates
WSJ: Coronavirus Live Updates
YAHOO NEWS: Coronavirus Live Updates
NEW YORK POST: Coronavirus The Latest
If you like what you see, please "Like" us on Facebook either
here
or
here
. Please follow us on Twitter
here
.