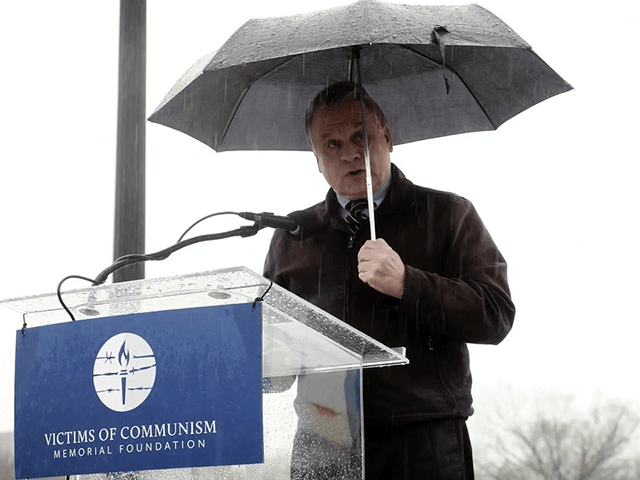 Genocide Olympics Protesters Denounce 'Complicity' of Corporations in Chinese Human Rights Abuses:
U.S. Rep. Chris Smith (R-NJ) and Hong Kong pro-democracy activist Brian Leung denounced mainstream corporations for supporting Beijing's hosting of the 2022 Winter Olympics at a "#NoBeijing2022" rally on Thursday in Washington, DC, saying their sponsoring of the event equates to tacit approval of the Chinese Communist Party's human rights violations.
Smith and Leung spoke in person at the demonstration on February 3, organized by the Victims of Communism Memorial Fund (VOC).
"Today we witness the complicity of many in corporate America, from Coca-Cola to NBC and so many others who are … [barely] mentioning these horrific crimes out of fear of a denial of access to to the markets in China," Rep. Smith said at the event.
Though he spoke separately, Leung echoed the themes of Congressman Smith's speech, similarly highlighting the significant corporate backing of the 2022 Winter Olympics, which launched on February 4 and will last through February 20. --->READ MORE HERE
Genocide Games: How Pelosi Reined in Criticism of 2008 Beijing Olympics While Her Family Was Bagging Cash in China:
Speaker of the House Nancy Pelosi (D-CA), once a fervent critic of the Chinese Communist Party, changed her tune as ties to Beijing enriched her family, bestselling author Peter Schweizer reveals in his new book Red-Handed: How American Elites Get Rich Helping China Win.
Pelosi's stance perhaps changed most rapidly during the debate over the 2008 Beijing Summer Olympics, an event human rights activists decried as a travesty given China's extensive record of atrocities against its own people. Opponents of the Games argued at the time that granting China such a tremendous honor and showcase for the Communist Party would embolden it to commit even greater horrors.
A year later, China sent paramilitary troops to crush a peaceful protest by members of the Uyghur community of East Turkistan, killing dozens and setting in motion the events that would lead to dictator Xi Jinping currently presiding over concentration camps that, at their peak, were estimated to imprison as many as 3 million people. --->READ MORE HERE
Follow links below to relevant/related stories:
+++++Report: China Uses DNA Selection, Beatings to Groom Olympic Athletes+++++
Protesters Surround NBC HQ Asking for Ban on Genocide Olympics
WATCH: Chinese Security Thug Drags Dutch Reporter Away During Live Shot at Genocide Games
If you like what you see, please "Like" us on Facebook either
here
or
here
. Please follow us on Twitter
here
.