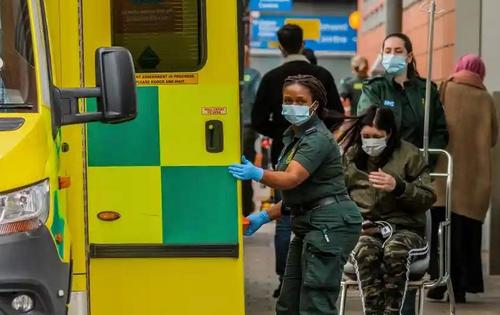 UK Scientist Says Omicron Is "Ray Of Light" That Could Help Transform COVID Into Common Cold:
Late last year, shortly after omicron arrived on the scene with its market-rattling post-Thanksgiving debut, we shared musings from a group of investors and market strategists who theorized that the new variant might actually help accelerate the end of the pandemic, and therefore, that it would ultimately be bullish for equities and crypto.
But while policy nabobs in the US like Dr. Fauci and Dr. Rochelle Walensky turned the panic dial up to '11', convincing millions of Americans to cancel their Christmas travel plans as millions around the country fell ill with symptoms more closely approximating a mild flu or a bad cold, scientists in South Africa were observing an interesting trend...the omicron wave there seemed to come and go without causing the horrorshow of deaths and systemic strain. Sure, a lot of people tested positive, but in the end, omicron appears to have helped the population build up its natural resistance to SARS-CoV-2 without killing millions of people.
And on Saturday, a scientist in the UK - where the NHS has called up military personnel and ordered field hospitals to be built to help accommodate the number of patients arriving at hospitals with COVID (even while deaths have remained well below their levels from last winter's delta wave) - helped to further frame omicron as almost a positive development in the evolution of the virus. During an interview with Times Radio, he described it as a "ray of light" that would help ease the transition for COVID to become an endemic disease, like the common cold. --->READ MORE HERE
Let's shed the masks and mandates — Omicron stats show we can stop living in fear:
President Joe Biden rang in the new year with a fictional account of COVID-19, just like the ones he peddled the year before, claiming, "This continues to be a pandemic of the unvaccinated."
The stats suggest otherwise. The Omicron variant is hitting hardest those who live in states with high vaccination rates — and high rates of masking.
So with COVID now being disproportionately caught — and presumably distributed — by the masked and vaccinated, what's the justification for authoritarian mask and vax mandates?
New York Times figures show that during the first week of the year (Jan. 1-7), the 10 states with the most COVID cases per capita were (in order) Rhode Island, New York, New Jersey, Massachusetts, Delaware, Florida, Connecticut, Illinois, Hawaii and Maryland. All 10 have higher vaccination rates than the nation as a whole; six have rates in the top 10. Nine — all but Florida — have mask mandates for schools, and several — such as New York — have wider mask mandates.
On the flip side, of the 10 states with the fewest COVID cases per capita, six have vaccination rates lower than the national average. Idaho, the state with the lowest vaccination rate, also has the lowest number of per-capita COVID cases. Eight of these 10 states don't have mask mandates. --->READ MORE HERE
Follow links below to related stories and resources:
COVID case counts may be losing importance amid omicron
Blue States Lead in Daily Average of Coronavirus Cases per Capita
USA TODAY: Coronavirus Updates
WSJ: Coronavirus Live Updates
YAHOO NEWS: Coronavirus Live Updates
NEW YORK POST: Coronavirus The Latest
If you like what you see, please "Like" us on Facebook either
here
or
here
. Please follow us on Twitter
here
.