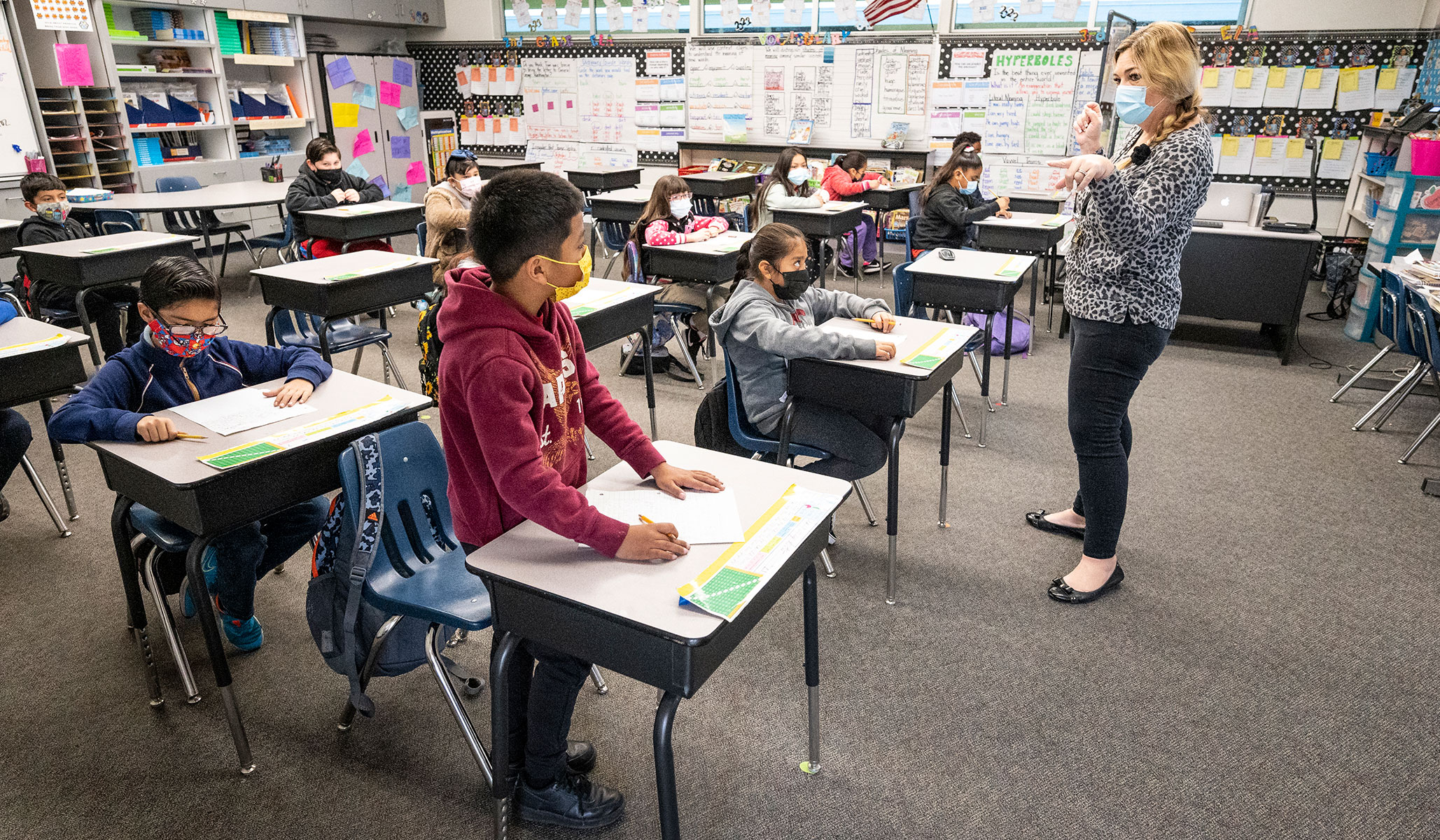 The Left's Coming Defeat in the Mask Wars:
The debate over masking kids at school is an ongoing, flagrant example of collective irrationality.
The people in contemporary America who most pride themselves on their alleged commitment to science and public health are also the most superstitious and immune to evidence.
Nowhere is this more obvious than in the debate over masking kids at school, an ongoing, flagrant example of collective irrationality.
The supporters of mask mandates are fired by a righteous certainty that if a child comes to school unmasked, his or her school and community are at risk of a devastating outbreak of the coronavirus, that parents who don't want to mask their kids are selfish and uncaring boobs who need to turn off Fox News, that public officials who block mask mandates or carve out exemptions for objecting parents have blood on their hands.
The mask proponents either have no idea that the U.S. is an international outlier in its school mask mandates (neither the European health authority nor the World Health Organization goes as far as the U.S. Centers for Disease Control and Prevention) and that there's next to no evidence for public-health benefits. Or simply they don't care because they are too attached to the theater of masked-up kids, in some jurisdictions even while they are outside for recess. --->READ MORE HERE
COVID-19 fights bleed into larger 'anti-vaxx' movement, threaten longtime vaccine rules in schools:
The vocal backlash to COVID-19 vaccines and mandates around them is sparking concerns that the "anti-vaxx" movement is finding a way to broadcast its message far and wide and chip away at school vaccinations for other diseases.
Cybertrackers say the anti-vaccine movement has dramatically expanded its reach on social media, and lawmakers in some states have floated bills that could weaken long-standing immunization requirements or prevent colleges and other institutions from adding further vaccine requirements.
Much of the debate around COVID-19 shots focuses on government mandates instead of the safety of the vaccines. Yet immunization advocates are worried about a confluence of interests among political activists. The anti-vaxx community has demonstrated an ability to latch onto pro-freedom movements, notably in 2015 in Texas, and reach a broader audience.
A rally against vaccine mandates this month drew thousands to the National Mall in Washington, including anti-vaccine activist Robert Kennedy Jr.
"People who oppose vaccines are a small group, but they have found other groups who don't like the government telling them what to do. Unfortunately, [the anti-vaccine activists] have seen opportunities to glom onto other groups to amplify their voice," said Rekha Lakshmanan, director of advocacy and policy at The Immunization Partnership. "The worry we have is this spilling over into kind of those routine school requirements that we've had for decades and that we know are effective. They've been around for a long, long time. It's a cornerstone in public health. One of the things the anti-vaccine community is trying to achieve is completely undoing things like school requirements."
Attitudes about vaccine requirements for measles, mumps, rubella and other infectious diseases appear to be shifting alongside the COVID-19 mandate wars, and some politicians have shown a willingness to broaden exemptions from school rules. --->READ MORE HERE
Follow links below to relevant/related stories and resources:
Lack of Medicare coverage for at-home coronavirus tests sparks outcry
6,000 federal employees unite in effort to stop Biden vaccine mandate
USA TODAY: Coronavirus Updates
WSJ: Coronavirus Live Updates
YAHOO NEWS: Coronavirus Live Updates
NEW YORK POST: Coronavirus The Latest
If you like what you see, please "Like" us on Facebook either
here
or
here
. Please follow us on Twitter
here
.