Florida Trucker In Canada Convoy: "We're Here To Join A Movement":
Florida-based owner-operator DeAndre Mahadeo, like other truckers who rolled past throngs of supporters just outside Toronto, got a rousing send-off on Thursday as he prepared to head to the capital, Ottawa, in a protest against COVID-19 vaccine mandates at the border.
Hundreds of people of all ages called them heroes and even freedom fighters as 15 to 20 trucks and a few hundred passenger vehicles paraded through a mall parking lot in Vaughan. Some handed over boxes of cookies, brownies and other snacks.
"We're here to join a movement," said Mahadeo, 30, a dual U.S.-Canadian citizen who regularly moves freight in both countries. "We need to end these restrictions once and for all."
Across the Toronto area, supporters on overpasses cheered on convoys as they made their way along Canada's busiest freight routes.
Mahadeo is fully vaccinated against COVID-19 so the mandates at the border haven't affected his job. He continues to move auto parts back and forth between the countries.
But the long-haul trucker — who considers both countries his home — believes more is going on behind the vaccination requirements.
"There is a whole lot of overreach of the government, certainly in the U.S. and Canada and around the world," said Mahadeo, who was born in Guyana. "Governments are using this as an opportunity to gain more leverage against the people." --->READ MORE HERE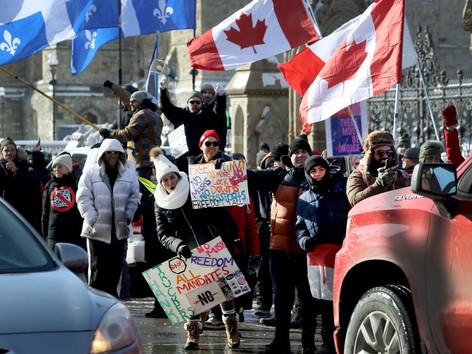 Photo by Tony Caldwell

/

Postmedia
Truck convoy updates: Vehicles jam downtown Ottawa; Police chief warns weekend will be 'fluid, risky and significant':
After hours on the road, the first of several convoys of trucks and vehicles protesting vaccine mandates entered downtown Ottawa amid the din of air horns on Friday, where some drivers said they would stay until the government caved to their demands.
It was the first wave of a potential multi-day protest intended to fill the city's streets with trucks, with officials estimating the bulk of what could be several thousand vehicles would arrive on Saturday.
Downtown Ottawa was jammed as a couple hundred vehicles decked out in Canadian flags arrived along Wellington and Queen streets to demonstrate against the federal vaccine mandate for cross-border truckers.
The Alexandra Bridge linking Ottawa and Gatineau was closed to traffic at 6 p.m. Friday until further notice. In a media release, Public Services and Procurement Canada cited "a load restriction" for the closure. The federal department also instituted lane reductions on the Macdonald-Cartier Bridge beginning at 8 p.m.
A heavy police presence greeted the procession, which was mostly made up of SUVs and sedans, as Ottawa and parliamentary police closely monitored a growing crowd of a couple hundred people on Parliament Hill. Kent Street was also gridlocked as a steady stream of vehicles made its way towards Parliament. --->READ MORE HERE
Follow links below to relevant/related stories and resources:
+++++Meet the truckers: The men and women of the Freedom Convoy 2022+++++
Truckers Across Planet Unite In Convoys Against Medical Tyranny
USA TODAY: Coronavirus Updates
WSJ: Coronavirus Live Updates
YAHOO NEWS: Coronavirus Live Updates
NEW YORK POST: Coronavirus The Latest
If you like what you see, please "Like" us on Facebook either
here
or
here
. Please follow us on Twitter
here
.