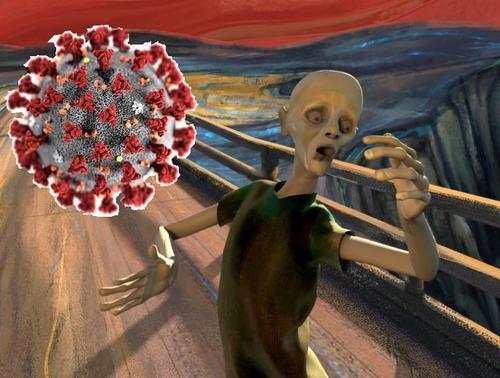 Omicron: We Warned You The COVID Farce Would Never End:
Remember when Anthony Fauci and other government paid medical "professionals" said that American's needed to mask up and stay home for two weeks to "flatten the curve" on the covid pandemic? Remember when they came back two weeks later and said they needed another couple of weeks? Remember how they backed off of the lockdowns a little and then came right back with demands for more? Remember in 2019 when people weren't cowering in their homes and behind masks over a virus with an average IFR (Infection Fatality Rate) of only 0.27%? Remember that?
At the very beginning of the pandemic response I and many others in the alternative media warned that the mandates and lockdowns were never going to end; they are meant to go on forever. I predicted this based on statements made by the very globalists and institutions scripting covid response policy for national governments. In my article 'Waves Of Mutilation: Medical Tyranny And The Cashless Society' published in April of 2020, I outlined comments by globalist Gideon Lichfield from MIT built on white papers published by the Imperial College of London. In the article titled 'We're Not Going Back To Normal' he describes the future of the world under covid medical tyranny:
"To stop coronavirus we will need to radically change almost everything we do: how we work, exercise, socialize, shop, manage our health, educate our kids, take care of family members.

We all want things to go back to normal quickly. But what most of us have probably not yet realized—yet will soon—is that things won't go back to normal after a few weeks, or even a few months. Some things never will."
He continues: --->READ MORE HERE
Omicron Shows Why It's Time to Move On from COVID Restrictions:
People should live not as if they are one variant or booster away from the end, but as if COVID-19 is here forever.
Now that the Omicron variant has been confirmed to have made landfall in the United States, there's been an all too familiar public debate over whether it should lead to a new wave of restrictions.
Already, the Washington Post reported that the Biden administration is considering more draconian rules for Americans returning from abroad, including additional testing and quarantine requirements — neither of which is enforceable. President Biden himself has claimed that more lockdowns were off the table "for now" — which means that they are not, in fact, off the table. Meanwhile, New York governor Kathy Hochul is not even waiting; she already declared a state of emergency and said that the state may limit non-urgent hospital procedures if necessary.
While there are some early signs that Omicron results in mild illness, there is currently not much to go on. Anthony Fauci has assured us that within two weeks, we'll have a lot more information — specifically, on how transmissible it is, how fatal it is, and whether the current vaccines offer protection from the new variant.
Of course, it would be preferable if the variant turned out to be mild and blunted by our current vaccines. But this whole discussion rests on a fundamentally flawed premise: the idea that we need to be waiting with bated breath for the results of current Omicron studies to determine whether we can go on with our lives. In reality, the Omicron variant demonstrates that COVID-19 is not going to disappear anytime soon. We should recalibrate based on that assumption. --->READ MORE HERE
Follow links below to related stories and resources:
Vaccine Evangelists Will Recoil in Horror After Vaccinated Individual Brings Omicron to America
Americans in these states could receive extra stimulus checks of $2,000 if they return to work
USA TODAY: Coronavirus Updates
WSJ: Coronavirus Live Updates
YAHOO NEWS: Coronavirus Live Updates
NEW YORK POST: Coronavirus The Latest
If you like what you see, please "Like" us on Facebook either
here
or
here
. Please follow us on Twitter
here
.