New York's noncitizen voting push exposes Dems' real immigration agenda:
NYC Council's measure allowing 800,000 unnaturalized residents to vote is part of larger scheme
The collapse of our southern border presided over by the Biden administration isn't the result of incompetence. It's not an effort to provide the American dream to those fleeing oppression. It's one part of a radical strategy to arrest power away from U.S. citizens, disenfranchise millions of Republican voters and devalue American citizenship.
We've suspected this since Jan. 20, but now the real designs of this self-inflicted national crisis are clear
The New York City Council's approval this week of a measure allowing some 800,000 noncitizens to vote in local elections represents a public shift into the next phase of this scheme.
To be sure, there is inherent racism in the left's thinking that immigrants are monolithic, and those who are on government assistance will reflexively vote Democrat. The Biden-Sanders immigration policy is simple, devious and a clear attempt to manipulate more minorities for political advantage.
There are people in this country who still believe the Democratic Party is the party of the Kennedys and FDR. You can hardly blame them. Former President Bill Clinton signed the 1996 federal law that bans noncitizens from voting in federal elections.
They can't bring themselves to imagine that their party has shifted so dramatically that it will blatantly ignore the law, intentionally dismantle our defenses and purposely flood the country with millions of illegal immigrants — not to mention drugs and criminals — all to replenish the ranks of the increasingly far-left institution. --->READ MORE HERE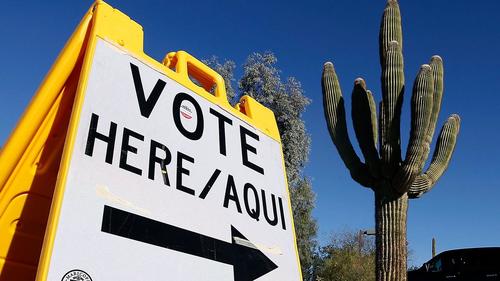 Turley: Is New York's Voting Rights For Non-Citizens Legal?
This week, New York became the latest city to grant voting rights to non-residents – a move that could give voting rights to 800,000 non-citizens in city elections. There are roughly a dozen such cities granting voting rights across the country but there are major questions over the legality of this measure in New York.
The purpose of these laws is to enfranchise non-citizens who pay taxes and are part of these communities. The New York law only extends to permanent residents. Critics argue that it is part of a trend toward erasing the distinctions between citizens and non-citizens.
The law, however, faces a credible challenge in the absence of action from the state legislature in Albany.
The first stumbling block is the state constitution itself. N.Y. Const. art. II, § 1 provides that "Every citizen shall be entitled to vote at every election for all officers elected by the people and upon all questions submitted to the vote of the people provided that such citizen is eighteen years of age or over and shall have been a resident of this state, and of the county, city, or village for thirty days next preceding an election." --->READ MORE HERE
If you like what you see, please "Like" us on Facebook either
here
or
here
. Please follow us on Twitter
here
.