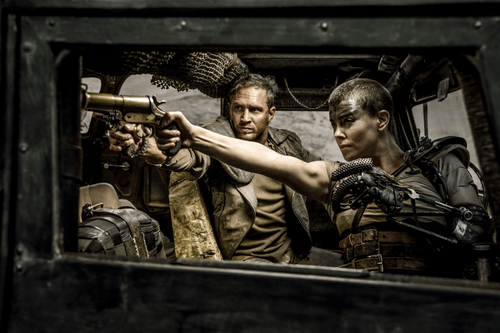 Finding Strength Along A Post-COVID Fury Road:
The COVID-9/11 pandemic is over. With the failure of Omicron to capture the imaginations of only the most unimaginative midwits, the question now is how do we move forward from here.
While we can rejoice that the threat to life and limb from COVID-9/11 may be effectively over, there is still the threat in its name to our liberty and sanity from those who profit most from the fear of the virus.
The aftershocks from COVID-9/11 will be with us for the foreseeable future. An entire generation has been scarred by this manufactured apocalypse and there will be no going back to the way things were.
We'd been warned by so many for so long. From investigative journalists, to the rare honest politician to the film-makers and artists who crafted stories for us to contemplate the lurking dangers in our deteriorating society.
Conditions were ripe for those in power to take maximal advantage of the fear from COVID-9/11. And they did so, enthusiastically.
The warnings were clear. There are toxic people out there who would rather destroy the world to hold onto their power rather than admit defeat. --->READ MORE HERE
New Yorkers wait in line for hours to get COVID-19 tests during surge:
Instead of lining up to see Santa or waiting to buy Christmas gifts, New Yorkers stood for hours Saturday to get COVID-19 tests as cases continued to surge.
Residents fumed as they waited for the nasal swabs in order to travel or because they thought they might have the virus.
At a city-run testing and vaccination center in Times Square on Saturday afternoon, the wait was about three hours.
"I'm cold and frustrated. We are in such a big city, there should be more options available," said Alessandra Abate, 29, a graduate student from Dumbo who had been in line for two hours.
Abate needed the test to travel to Italy on Sunday to see her family.
"It's literally impossible over the weekend to find a place," she said.
A worker at the site said the wait was "the most ridiculous I've seen."
But the worker, who would only give his name as Cliff, added there was no line for vaccines. --->READ MORE HERE
Follow links below to related stories and resources:
It's Beginning To Look A Lot Like Pravda... Everywhere You Turn
London anti-vax protest leaves police officers hurt: Reports
USA TODAY: Coronavirus Updates
WSJ: Coronavirus Live Updates
YAHOO NEWS: Coronavirus Live Updates
NEW YORK POST: Coronavirus The Latest
If you like what you see, please "Like" us on Facebook either
here
or
here
. Please follow us on Twitter
here
.