Poll: Biden Approval Plummets to Under 38 Percent as Republicans Take Commanding 8-Point Lead in Generic Midterm Ballot:
Democrat President Joe Biden's approval rating keeps sinking, now down to 37.8 percent in the latest USA Today/Suffolk University poll. The sharp turn against the sitting president comes as Republicans take a commanding lead in the generic congressional ballot, and the public sours on Biden's agenda.
A strong majority of 59 percent disapproves of Biden, with just 37.8 percent approving of his job performance and 3.2 percent undecided. Biden's support crash, according to USA Today's article accompanying the release of the polling, comes in large part because he "cratered among the independent voters who delivered his margin of victory over President Donald Trump one year ago." Independents by a 7 to 1 margin believe Biden has done a worse job than they expected as president.
"Nearly half of those surveyed, 46%, say Biden has done a worse job as president than they expected, including 16% of those who voted for him," USA Today's Susan Page and Rick Rouan wrote. "Independents, by 7-1 (44%-6%), say he's done worse, not better, than they expected."
Republicans now have a dominant 8-point lead in the looming midterm elections as well, as 46 percent of survey respondents say they will vote for a Republican and just 38 percent say they will back a Democrat.
"If the election were today, those surveyed say, they would vote for their Republican congressional candidate over the Democratic one by 46%-38%, an advantage that would bode well for GOP hopes of gaining a majority in the House and the Senate," Page and Rouan wrote. "In a president's first midterm election, his party usually loses ground, and this time the GOP needs to flip just five seats in the House and one in the Senate to claim control." --->READ MORE HERE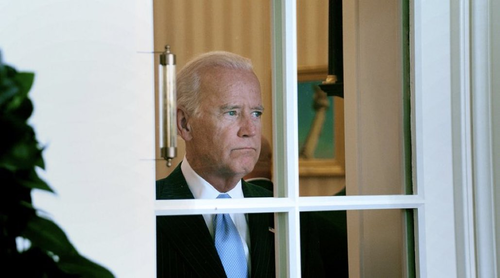 New Poll Suggests GOP Victory In 2022; Biden Approval Sinks To 38% While Kamala's Even Worse
A new poll out from USA Today/Suffolk University does not bode well for Democrats going into next year's midterm elections.
Perhaps most notable is a complete crash President Biden's approval ratings among independent voters - who just 12 months ago were a deciding factor in his win over former President Donald Trump.
According to the poll, Biden's approval rating is now just 38%, while 59% disapprove - the loweest rating of any modern president at this point in his term aside from Trump - who was up against heavily polls which oversampled Democrats. Suffolk University hasn't actually published this poll on its website, so we are unable to report on bias as of this writing.
More via USA Today:
Nearly half of those surveyed, 46%, said Biden has done a worse job as president than they expected, including 16% of those who voted for him. Independents by 7-1 (44%-6%) said he's done worse, not better, than they expected.
Nearly two-thirds of Americans, 64%, said they didn't want Biden to run for a second term in 2024. That included 28% of Democrats. Opposition to Trump running for another term in 2024 was nearly as high, at 58%. That included 24% of Republicans.
Vice President Kamala Harris' approval rating was 28% – even worse than Biden's. The poll showed that 51% disapproved of the job she's doing. One in five, 21%, were undecided. --->READ MORE HERE
Follow links below to related stories:
Red Wave Inflames Democrat Infighting over Biden's Radical Agenda: 'F*cking Disaster'
More Democrats want Biden replaced on party's ticket in 2024: Poll
Nolte: 72% of Americans Say Cancel Culture Is 'Out of Control'
Poll: Almost 60 percent of Americans disapprove of Biden's handling of the economy
Poll shows 'scary news' for Democrats: 71% of Americans say country headed in wrong direction; Biden's approval hits new low
65% of Americans Say Economy Is Poor, Only 30% Expect Improvement
If you like what you see, please "Like" us on Facebook either
here
or
here
. Please follow us on Twitter
here
.