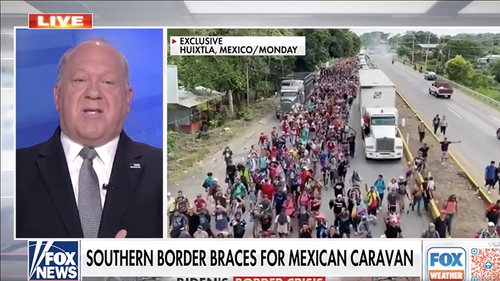 Watch: Former ICE Director Says Biden Should Be Impeached Over "Intentionally Unsecured" Border:
Former acting ICE director Tom Homan blasted Joe Biden Tuesday, accusing he and his administration of "intentionally" allowing the southern border to become insecure, saying it is being done "by design".
Appearing on Fox News, Homan declared that within days America has gone from "the most secure border we ever had" under President Trump to chaos under Biden.
"We had illegal immigration down 81 percent, most secure border in my entire career of 35 years. Most secure border in my lifetime," Homan urged.
He continued, "And we have a president that came in within days unsecured the border, and we got a secretary of Homeland Security that's helping him do that. It's unbelievable what they have done." --->READ MORE HERE
Analyst: Biden's Record-High Illegal Immigration 'an Unmitigated Disaster':
President Joe Biden's record-setting illegal immigration to the United States is "an unmitigated disaster" that could take "a decade or more" for Democrats to repair from, an analyst says.
Last week, as Breitbart News reported, the Department of Homeland Security (DHS) revealed that more than two million illegal aliens crossed the United States-Mexico border in Fiscal Year 2021 — the highest level of illegal immigration ever in the nation's history.
Specifically, federal immigration agents apprehended about 1.66 million illegal aliens who crossed the border, though thousands were subsequently released into the U.S. interior, while nearly 400,000 illegal aliens successfully crossed into the U.S. undetected.
"With this, the Biden administration now holds the record for the greatest number of fiscal year apprehensions at the southwest border in US history, 1.658 million versus 1.643 million in 2000," Steven Kopits, an analyst with the Princeton Policy Advisors firm, wrote. --->READ MORE HERE
Follow links below to related stories:
Biden is 'derelict in his duty' amid border crisis: Retired major general
Migrant invasion fundamentally transforming America
New Immigration Numbers Prove Biden Border Crisis Is Worst In History
If you like what you see, please "Like" us on Facebook either
here
or
here
. Please follow us on Twitter
here
.