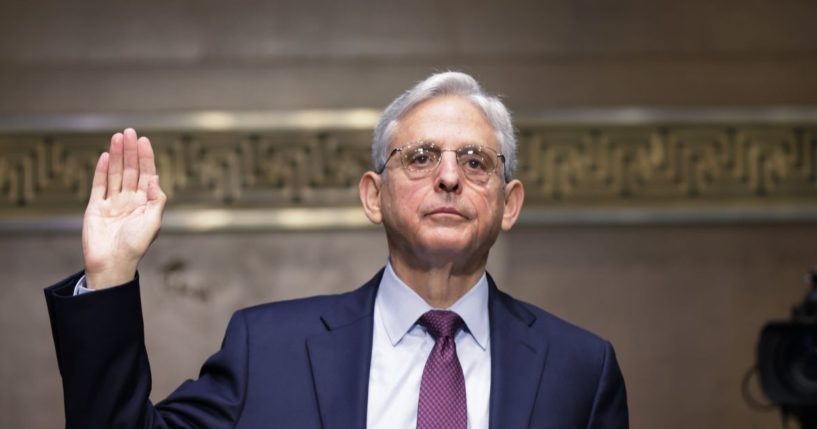 Explosive Docs: AG Garland Lied to Congress, Whisleblower Shows FBI Flagging Parents as Possible Terrorists:
On Oct. 27, Attorney General Merrick Garland sat before Congress and claimed the FBI would not be flagging parents protesting at local school board meetings as potential domestic terrorists.
Whistleblower documents released on Tuesday, however, suggest this may have been an outright lie.
The documents, sent to House Republicans by an anonymous FBI staffer, show that the FBI's counterterrorism and criminal investigative divisions were tracking threats against teachers by flagging certain instances with "threat tags."
FROM THE WHISTLEBLOWER: pic.twitter.com/4IfJRPVKMk

— House Judiciary GOP (@JudiciaryGOP) November 16, 2021
Questions over whether or not the FBI was improperly investigating parent protesters first arose after Garland sent an Oct. 4 memo to the FBI directing the agency to track "threats" against public school officials. This memo came shortly after the National School Boards Association penned a letter to President Joe Biden demanding he treat "the growing number of threats" against school board members as acts of domestic terrorism. --->READ MORE HERE
Whistleblower Delivers Documents Showing AG Merrick Garland Lied to Congress:
Rarely does anything in the news surprise me anymore, but consider today's happenings an exception. In an explosive development, a whistleblower has delivered an email to Congress proving that Attorney General Merrick Garland lied under oath while testifying on Capitol Hill some weeks ago.
As RedState reported at the time, Garland's statements surrounding the targeting of parents as "domestic terrorists" simply did not add up, with his mix of denialism and unwillingness to address the issue only adding to the suspicion that the DOJ had and continued to act improperly.
Now, these new documents deliver a decisive blow to Garland's previous assertion that the DOJ/FBI was not using the counterterrorism apparatus to target parents. In fact, they show the opposite, i.e. that the counterterrorism division was not only involved (and presumably still is) but that it was being used to "tag" parents as potential threats. --->READ MORE HERE
Follow links below to related stories:
+++++Explosive! AG Garland Lied -FBI Is Using Counterterrorism Tools to Investigate Parents+++++
DOJ Whistleblower Documents Suggest Merrick Garland Lied About The Targeting Of Parents As Domestic Terrorists
6 Takeaways From Emails Revealing White House Role in Targeting Parents Who Disagree With School Boards
House Republicans Obtain Whistleblower Docs Showing FBI Used Counterterrorism Unit to Add "Threat Tags" to Parents – Contradicting Garland's Sworn Testimony
If you like what you see, please "Like" us on Facebook either
here
or
here
. Please follow us on Twitter
here
.