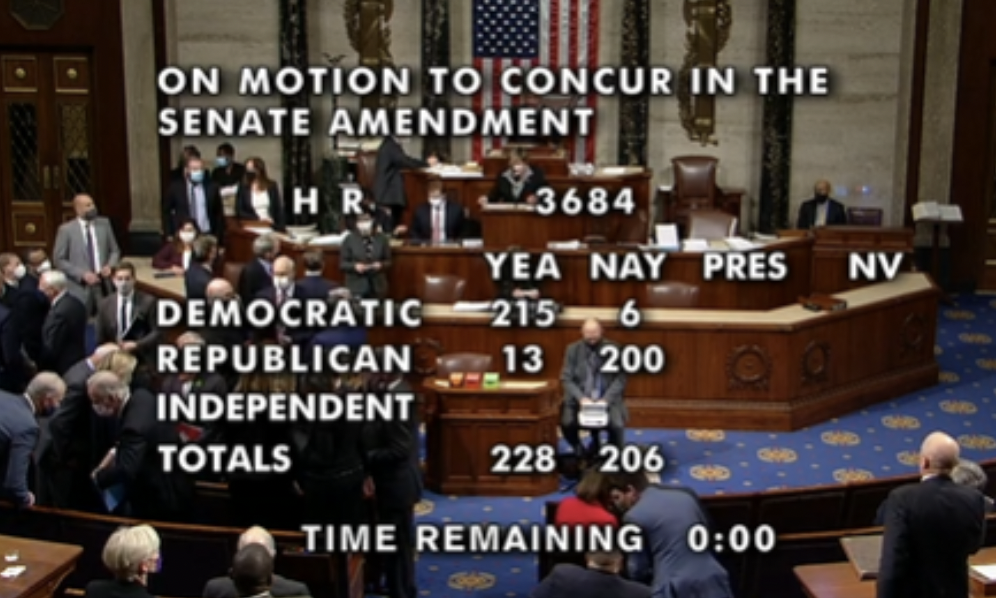 Disgraceful House Republicans Rescue Biden's Flailing Agenda:
Just before midnight on Friday, we witnessed an utterly disgraceful act by a group of 13 House Republicans. Given the chance to deal a severe blow to President Biden's flailing agenda, they instead rescued him by providing Speaker Nancy Pelosi with the votes she needed to overcome resistance from the far Left of her party.
For months, Biden's multi-trillion dollar domestic agenda has been mired in problems. Democrats are dealing with disagreements among the extremely liberal and less liberal wings of the party, and narrow majorities have left leadership with little margin for error.
Their goal has been to pass trillions of dollars of new spending at a time when debt as a share of the economy is at historic levels rivaled only by the fight against World War II. The strategy all along was for Democrats to win over some Republicans to their cause by creating a charade that their agenda was actually divided into two parts: a physical infrastructure bill, and a sweeping social-welfare bill.
For months, Democrats have been battling amongst themselves, with some members more attached to the infrastructure bill and others more attached to the social-welfare bill. But ultimately, time and again, it has become clear that the two bills were inextricably linked, and would rise and fall together.
Senate Republicans got the ball rolling when 18 of them decided support the unnecessary infrastructure bill, with its $550 billion in new spending, and send it to the House for final passage. --->READ MORE HERE
'Traitor!' 13 Establishment House Republicans Face Backlash for Enabling Joe Biden's Radical Agenda:
Thirteen establishment House Republicans are facing backlash for enabling President Joe Biden's infrastructure agenda, including the far-left's reconciliation package.
The 13 establishment House Republicans who voted to pass the $1.2 trillion "bipartisan" infrastructure bill, which will now go to Biden's desk to sign, sprung free the far-left framework of the reconciliation package. The reconciliation package is a measure far-left Democrats had been fighting over for months while holding the infrastructure bill hostage.
After 13 Republicans voted to pass Biden's infrastructure bill, a rule was passed providing consideration for the reconciliation package's framework, a key function that must occur in order to send the massive tax and spend package into the process of reconciliation.
If the 13 Republicans had not voted for the infrastructure bill, House Speaker Nancy Pelosi (D-CA) would not have had enough Democrat votes to pass the bill. But 13 Republicans did vote for the bill, which removed the leverage to block the reconciliation package from moving forward.
Ryan James Girdusky tweeted the breakdown of the 13 Republicans. According to Girdusky, eight Republicans are in red districts and face a tough reelection year. Two are retiring, and three are in blue districts: --->READ MORE HERE
Follow links below to related stories:
+++++Here's Everything America Gets For $1.2 Trillion In Infrastructure Spending - Including The Crazy Stuff+++++
Hagerty: GOPers Who Supported $1.2 Trillion Bill 'Put Themselves on a Path to Early Retirement' and Ignored Tuesday's Election Results
MTG says 'Squad' members have 'more balls' than Republicans who voted for infrastructure package
'Monumental step forward': Biden hails passage of $1.2T infrastructure package
If you like what you see, please "Like" us on Facebook either
here
or
here
. Please follow us on Twitter
here
.