Biden's 'Build Back Better' Budget Includes $80B Wealth Transfer to Illegal Aliens:
President Joe Biden's "Build Back Better Act," a filibuster-proof $1.75 trillion budget reconciliation package, includes an $80 billion wealth transfer from Americans to illegal aliens via child tax credits.
This week, Democrats unveiled a reconciliation package that they negotiated with the Biden administration that would extend the Child Tax Credit (CTC) for another year and deliver billions of dollars to illegal aliens who would be able to claim the tax credit without ever having to work.
Specifically, as Breitbart News reported, estimates project that, if passed, the budget would provide illegal aliens with about $80 billion in child tax credits over the course of a decade — a massive cost to American taxpayers who would have to foot the bill. Analysis by the Center for Immigration Studies explains:
We estimate that illegal immigrants will receive $8.2 billion in payments from the new program annually — more than triple what they were eligible for under the old [Additional Child Tax Credit] — while legal immigrants will receive $17.2 billion. The 10-year cost just for illegal immigrants would total roughly $80 billion. --->READ MORE HERE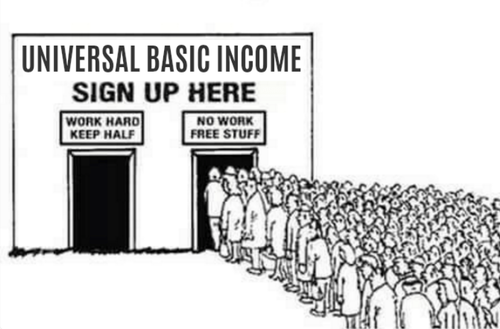 The $1 Trillion Child Tax Credit Is Really Universal Basic Income:
In the Democrat-backed $3.5 trillion Build Back Better Act that funds so-called "human infrastructure," is money categorized as a child tax credit but acts as a universal basic income for people with children.
This expansion of the social safety net is a "turbocharged child tax credit that is really a universal basic income, which will discourage work and cost $1 trillion," The Wall Street Journal editorial board said.
While the bill extends the tax credit through 2025, the editorial board argues neither Republicans nor Democrats running Congress or the White House will ever repeal it.
Democrats expanded the 2021 credit to $3,600 for children under age six and $3,000 for older dependents as part of the March Covid-19 relief bill.
It was an increase from the $2,000 that Republicans offered in their 2017 tax reform plan, which was an increase from $1,000. --->READ MORE HERE
If you like what you see, please "Like" us on Facebook either
here
or
here
. Please follow us on Twitter
here
.