Americans Quit Their Jobs at Record Pace for 2nd Month:
Americans quit their jobs at a record pace for the second straight month in September, while businesses and other employers posted a near-record number of available jobs.
The Labor Department said Friday that 4.4 million people quit their jobs that month, or about 3% of the nation's workforce. That's up from 4.3 million in August. There were 10.4 million job openings, down from 10.6 million in August, which was revised higher.
The figures point to a historic level of turmoil in the job market as newly-empowered workers quit jobs to take higher pay that is being dangled by increasingly-desperate employers in need of help. Incomes are rising, Americans are spending more and the economy is growing, and employers have ramped up hiring to keep the pace. Rising inflation, however, is offsetting much of the pay gains for workers.
It is typically perceived as a signal of worker confidence when people begin to leave the jobs they hold. The vast majority of people quit for a new position. --->READ MORE HERE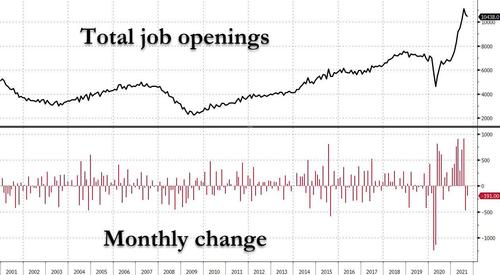 A Record Number Of Americans Just Quit Their Job, As Job Openings Surpass Unemployed Workers By A Record 2.8 Million
After seven consecutive months of massive increases in job openings (where even the weakest month saw a 290K increase and the strongest, July, saw a record 913K new jobs openings), today the BLS reported that in September the number of job openings in the US may have finally reached a peak, dropping for the second time in a row, by a modest 191K in September (recall the JOLTS report has an extra month delay vs the payrolls report), after August's 469K drop. Still, even with the big drop, the total number of job openings remains a huge 10.438 million, which came in well above the 10.3 million expected, and just shy of the 11.1 million all time high.
The second consecutive decline in job openings took place in the month when millions of Americans lost their emergency pandemic benefits, and while we have yet to see a big surge in payrolls as a result of millions of unemployed workers collecting benefits returning to the workforce, we expect continued declines in job openings in the coming months as more and more vacant jobs are filled. But not just yet.
Looking at the details, job openings increased in health care and social assistance (+141,000); state and local government, excluding education (+114,000); wholesale trade (+51,000); and information (+51,000). Job openings decreased in state and local government education (-114,000); other services (-104,000); real estate and rental and leasing (-65,000); and educational services (-45,000). The number of job openings was little changed in all four regions
As a reminder, when looking at the JOLTS report two months ago, we pointed out that for the first time ever, there were over 2 million more vacant jobs than unemployed workers. Well, fast forward to today when despite the drop in job openings, with the number of unemployed workers dropping even more, there was now a new record, or 2.8 million, more vacant jobs than unemployed workers confirming that the US labor market remains painfully cracked. --->READ MORE HERE
Follow links below to related stories:
Americans set record for quitting jobs in September
Number of people quitting jobs hits record high
California Fraudsters Get Rich Off Unemployment Benefits
If you like what you see, please "Like" us on Facebook either
here
or
here
. Please follow us on Twitter
here
.