Analyst: Biden's Record-High Illegal Immigration 'an Unmitigated Disaster':
President Joe Biden's record-setting illegal immigration to the United States is "an unmitigated disaster" that could take "a decade or more" for Democrats to repair from, an analyst says.
Last week, as Breitbart News reported, the Department of Homeland Security (DHS) revealed that more than two million illegal aliens crossed the United States-Mexico border in Fiscal Year 2021 — the highest level of illegal immigration ever in the nation's history.
Specifically, federal immigration agents apprehended about 1.66 million illegal aliens who crossed the border, though thousands were subsequently released into the U.S. interior, while nearly 400,000 illegal aliens successfully crossed into the U.S. undetected.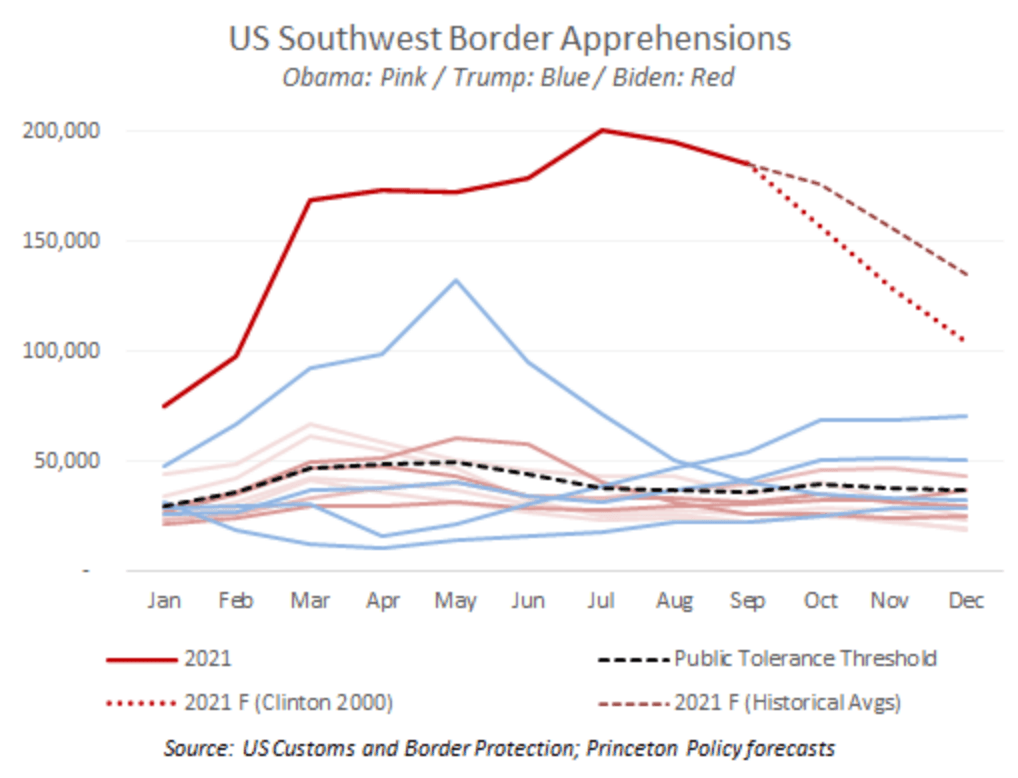 --->READ MORE HERE
Migrant invasion fundamentally transforming America:
The numbers are staggering. Should we call them invaders instead of migrants since that word better describes the hordes of humanity coming across what used to be our southern border, a border that has been effectively erased? In March, the COVID-19 positivity rate for those breaching our border was about 6 percent. Many of these people cannot speak English and have few job skills other than manual labor. A convicted sex offender was recently one of 35 migrants arrested in Texas for entering the country illegally. An Afghan evacuee has been charged with raping a woman in Missoula, Montana. We are beyond a crisis and are now experiencing a disaster.
The overwhelmed Border Patrol reports nearly 200,000 encounters with migrants in July alone. It was the highest monthly total in more than two decades. This doesn't include the "gotaways," which some estimate are as high as 400,000. According to the Brookings Institute, the number of undocumented immigrants living in the U.S. as of 2019 ranged from 10.5 to 12 million, or about 3.2 percent to 3.6 percent of the population. The numbers have grown considerably since then.
They are not finished coming. Why should they stop when coyotes and other traffickers promise free stuff courtesy of the U.S. taxpayer? Last Saturday morning, as many as 4,000 migrants broke through a clearly ineffective Mexican National Guard roadblock in Tapachula, Mexico. They were on their way to Mexico City. The U.S. was their final destination. I'd like to know who pays for their transportation, food, and signs written in Spanish and English for the TV cameras? Some signs praise President Joe Biden. No longer limited to Latin countries, the latest wave includes Haitians. --->READ MORE HERE
Follow links below to related stories:
Texas GOP Rep Blasts Biden Admin, Says Border Is 'Catastrophe'
Texas Senators Blast Biden Admin Over Denial of Border Crisis: 'It Is a Federal Responsibility'
If you like what you see, please "Like" us on Facebook either
here
or
here
. Please follow us on Twitter
here
.