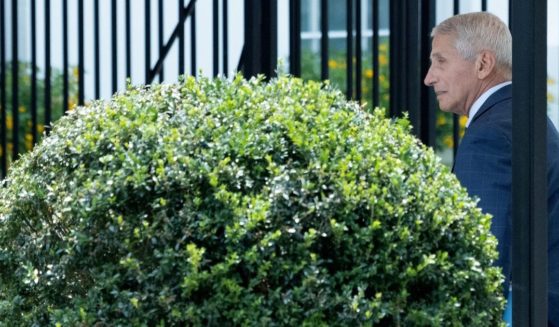 A Republican Senator Is Introducing the FAUCI Act:
Republican Sen. Joni Ernst of Iowa wants to make sure that never again will the American people hear a tangled tale of American dollars funding research in China while officials dance around the truth.
Ernst is introducing the FAUCI Act — or the Fairness and Accountability in Underwriting Chinese Institutions Act — according to a statement on her website.
The act would ban the federal government from misusing taxpayers' dollars to fund what's known as gain-of-function research in China. This research takes place when a laboratory experiment transforms a naturally occurring virus into a more powerful disease.
Research conducted by American taxpayers at the Wuhan Institute of Virology that was funded by the National Institutes of Health (NIH) has taken on new importance amid the coronavirus pandemic.
The NIH has funded what some experts say amounted to gain-of-function research in China, which undercuts assertions from Dr. Anthony Fauci and others that the federally funded agency did no such thing, according to one expert. --->READ MORE HERE
GOP senators move to 'strike down' Biden's workplace vax mandate:
More than 40 Republican senators are looking to overturn President Biden's workplace vaccine mandate through the Congressional Review Act, calling the rule "unacceptable."
The 41 Republicans, led by Sen. Mike Braun (R-Ind.), are looking to nullify the order issued by Biden earlier this fall that mandated that people who worked for businesses with 100 employees or more get vaccinated for COVID-19 or face weekly testing. Federal employees were not given the testing option.
The mandate is set to be enforced by the Occupational Safety and Health Administration (OSHA), which is expected to release a formal rule soon.
The Republican senators' move was first reported by Fox News and does not have full support from the right side of the aisle as nine of the senators are waiting for OSHA to release the formal rule. However, there is no Republican opposition to disapproval of the mandate, a Republican aide told the outlet.
"Now, when we're finally at kind of an equilibrium, you're putting an ultimatum on them," said Braun, the top Republican on the Senate Subcommittee for Employment and Workplace Safety. "Either get the vaccine or lose your job." --->READ MORE HERE
Follow links below to related stories and resources:
Doctors warn men to get COVID vaccination: 'Do it for your penis'
Restaurants mulling robot deliveries amid job shortages, high demand
USA TODAY: Coronavirus Updates
WSJ: Coronavirus Live Updates
YAHOO NEWS: Coronavirus Live Updates
NEW YORK POST: Coronavirus The Latest
If you like what you see, please "Like" us on Facebook either
here
or
here
. Please follow us on Twitter
here
.