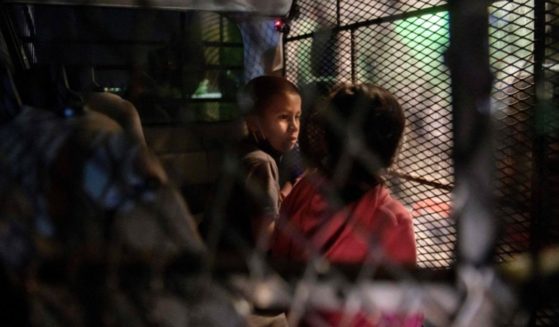 A Record-Breaking Number of Unaccompanied Kids Have Crossed the Border Since Biden Took Office: Report
More than 125,000 unaccompanied children have crossed the southern border of the U.S. since President Joe Biden took office. That's more in nine months than in any previously recorded year.
The record-breaking number includes 112,433 unaccompanied minors who arrived in the U.S. from February to August, the Washington Examiner reported.
The previous record number of unaccompanied children entering the U.S. was approximately 80,000 in the entire calendar year of 2019.
"The reason that the smugglers are sort of abandoning these children is because they know that [the Department of Homeland Security] is going to find [the parent]," said Andrew Arthur, law and policy fellow at the Center for Immigration Policy.
"We have helped them perfect their business model. If they simply drop them over the wall then they're not going to get arrested by DHS because they can just flee back to Mexico while DHS is too busy taking care of the kid," he added. --->READ MORE HERE
Unprecedented 125K Unaccompanied Children Have Shown Up at Border Under Biden:
More than 125,000 children traveling without parents have shown up along the U.S.-Mexico border to be taken into custody under the Biden administration, an unprecedented figure, according to data from the U.S. Customs and Border Protection.
From February through August, 112,433 unaccompanied children were found after crossing the southern border, the Washington Examiner reported, citing CBP data.
The Department of Homeland Security has not released official numbers for child arrivals in September or in the first 15 days of October, the Washington Examiner noted. But data from the Department of Health and Human Services reveals approximately 15,000 additional children were encountered by federal law enforcement in that period, for a total of more than 125,000 children, the news outlet reported.
The 125,000 arrivals in less than nine months is higher than the 12-month record of 80,000 set in 2019. --->READ MORE HERE
Government can't reach one-in-three released migrant kids
The U.S. government has lost contact with thousands of migrant children released from its custody, according to data obtained by Axios through a Freedom of Information Act (FOIA) request.
Why it matters: Roughly one-in-three calls made to released migrant kids or their sponsors between January and May went unanswered, raising questions about the government's ability to protect minors after they're released to family members or others in the U.S.
"This is very dismaying," said Mark Greenberg, who oversaw the unaccompanied minors program during the Obama administration and was briefed on Axios' findings. "If large numbers of children and sponsors aren't being reached, that's a very big gap in efforts to help them."
"While we make every effort to voluntarily check on children after we unite them with parents or sponsors and offer certain post-unification services, we no longer have legal oversight once they leave our custody," an HHS spokesperson told Axios, adding that many sponsors do not return phone calls or don't want to be reached out to.
Follow links below to related stories:
If you like what you see, please "Like" us on Facebook either
here
or
here
. Please follow us on Twitter
here
.