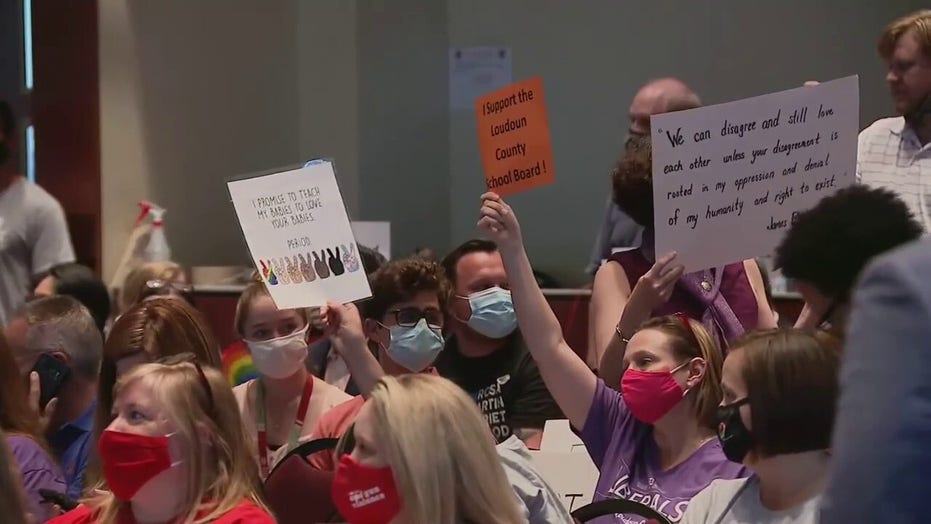 Loudoun County father arrested at school board event says school tried to cover up daughter's bathroom assault:
Virginia dad explains board meeting arrest, says boy wearing skirt assaulted daughter in bathroom
A parent who was arrested during a June school board meeting in Loudoun County, Virginia, is accusing the district of trying to cover up an alleged bathroom sexual assault by a gender-fluid individual against his daughter in order to further its transgender rights agenda.
Scott Smith was found guilty of disorderly conduct and resisting arrest in August after he was filmed being dragged by police from the Loudoun County School Board meeting on June 22. He was sentenced to 10 days in jail, all suspended, contingent on a year of good behavior, Loudoun Now reported at the time.
Smith's image went viral among left-wingers as an example of parents run amok, and the National School Boards Association cited his arrest in a letter last week requesting the Department of Justice to provide federal law enforcement to respond to an increase in violence against school officials across the country. Attorney General Merrick Garland later pledged to have the Department of Justice and the FBI investigate harassment of school board members. --->READ MORE HERE
Father: Loudoun County Schools Hid Daughter's Bathroom Assault by Boy Wearing Skirt:
A father is claiming the Loudoun County school district attempted to cover up his daughter's alleged assault in the girls' bathroom at Stone Bridge High School by a boy wearing a skirt.
Scott Smith was arrested in June at a school in Loudoun County, Virginia, during a board meeting at which hundreds of parents voiced concerns about the district's transgender policy and Critical Race Theory (CRT).
NEW VIDEO from inside the chaotic Loudoun school board meeting. 1/3 pic.twitter.com/tHDyzCz7KE

— Drew Wilder (@DrewWilderTV) June 22, 2021
A month earlier, the Daily Wire reported, Smith claimed a boy who was wearing a skirt had entered the girls' bathroom at the high school and sexually assaulted his ninth-grade daughter.
According to the report, Smith's attorney, Elizabeth Lancaster, said the boy was charged with two counts of forcible sodomy, one count of anal sodomy, and one count of forcible fellatio that day at school. --->READ MORE HERE
Follow links below to related stories:
+++++Loudoun County schools covered up rape, prosecuted a concerned father to protect transgender agenda+++++
A Trans Rapist, an Angry Dad, and a School Board Arrest
Loudoun County Schools Tried To Conceal Sexual Assault Against Daughter In Bathroom, Father Says
Loudoun County father who was dragged out of woke school board meeting reveals his daughter was 'raped' in the girls' bathroom by a 'skirt-wearing' male student who was arrested for assaulting a SECOND girl months later - but staff did nothing
If you like what you see, please "Like" us on Facebook either
here
or
here
. Please follow us on Twitter
here
.