Biden's mass illegal migration:
Border crisis has only worsened since Del Rio, Texas, invasion
Biden's border crisis has worsened in recent weeks due to a massive invasion of illegal aliens in Del Rio, Texas. We spent time there recently investigating the extent and impact of the largest illegal immigration in our nation's history to understand what happened and why.
In a span of eight days, more than 26,000 Haitian migrants arrived en masse and in a coordinated manner to Del Rio. Somebody had to coordinate the movement, the staging, and the transportation of that large number of people.
After all, the highest number of illegal aliens arriving in a single day at the border previous to Del Rio was a little over 1,000 to El Paso in May of 2019. Yet at Joe Biden's "closed border," more than 12,000 crossed the Rio Grande from tiny Ciudad Acuna into Del Rio in one day.
Did our intelligence community (IC) see this mass movement and simply fail to understand what was happening? Or did the IC comprehend and choose to keep that information from Customs and Border Protection (CBP) leaders?
Even more vexing proposition is that CBP brass knew but failed to act or notify the Del Rio Sector chief. --->READ MORE HERE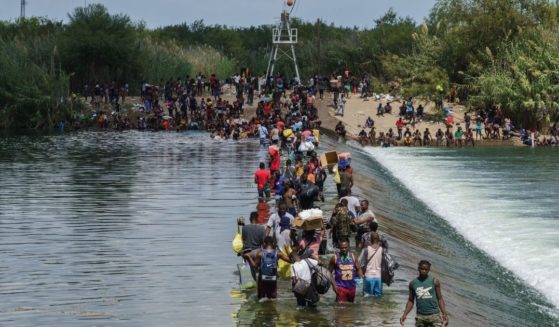 Former ICE Director Blasts Mayorkas Over Border Crisis, Says He's 'Lying to the American People':
Former Immigration and Customs Enforcement Director Tom Homan blasted Homeland Security Secretary Alejandro Mayorkas over the Biden administration's border crisis, declaring he is "lying to the American people."
Documents leaked to Fox News this week revealed 160,000 migrants have been released into the United States since March. Homan offered his perspective on that during a "Fox & Friends First" interview on Thursday morning.
"The numbers show that the secretary has been lying to the American people," Homan said.
Former acting ICE Director, Tom Homan, sounds off as we learn 160,000 migrants have been released into the U.S. under the Biden Administration.https://t.co/0aujDkzXx9

— Fox & Friends First (@FoxFriendsFirst) October 14, 2021
The Fox report also said that since Aug. 6, the Biden administration has released about 32,000 immigrants into the U.S. via parole — which gives migrants a temporary legal status and the ability to apply for work permits.
"Why are they using paroles?" Homan said. "Because they'll be eligible for a work visa when they get here."
"Again, here is the secretary not taking any enforcement posture, not doing anything to slow the flow," he said.
"They're calling their friends and neighbors back home, saying, 'Not only did I get released. I got a job.' This is just another enticement," Homan said.
"This is just open borders gone wild." --->READ MORE HERE
Follow link below to a related story:
Illegal Immigration Could Destroy Our Country
If you like what you see, please "Like" us on Facebook either
here
or
here
. Please follow us on Twitter
here
.