Texas Forms Miles-Long Border Barrier from State Troopers and National Guard Vehicles
Governor Greg Abbott ordered the Texas Department of Public Safety and National Guard to use vehicles to create a miles-long barrier to stop the flow of mostly Haitian migrants from crossing the Rio Grande. The vehicle barrier, along with the recently constructed Texas border fencing, effectively blocked the illegal crossings and enabled Border Patrol officials to reduce the population of the Del Rio migrant encampment.
Governor Abbott ordered the DPS and Texas National Guard on September 19 to begin the use of a vehicle barrier to block the crossing of migrants from Ciudad Acuna, Coahuila, to Del Rio, Texas. Since that time, hundreds of law enforcement vehicles poured into the region creating a miles-long barrier along the Rio Grande, DPS officials told the governor during a briefing on Tuesday in Del Rio.
On our way to @GovAbbott 's press conference on border security, we are seeing (quite deliberately, I'm sure) a lot of evidence of the DPS troopers he has sent here to Del Rio pic.twitter.com/zXekTCwc9C

— Garrett Brnger (@BrngerReports) September 21, 2021
In addition to the barrier provided by law enforcement and Texas military vehicles, the governor also ordered the building of physical barriers along the river to stop the unrestricted flow of migrants. On Tuesday, Breitbart Texas observed several miles of border barrier built by the state where no physical barrier existed three months ago. --->READ MORE HERE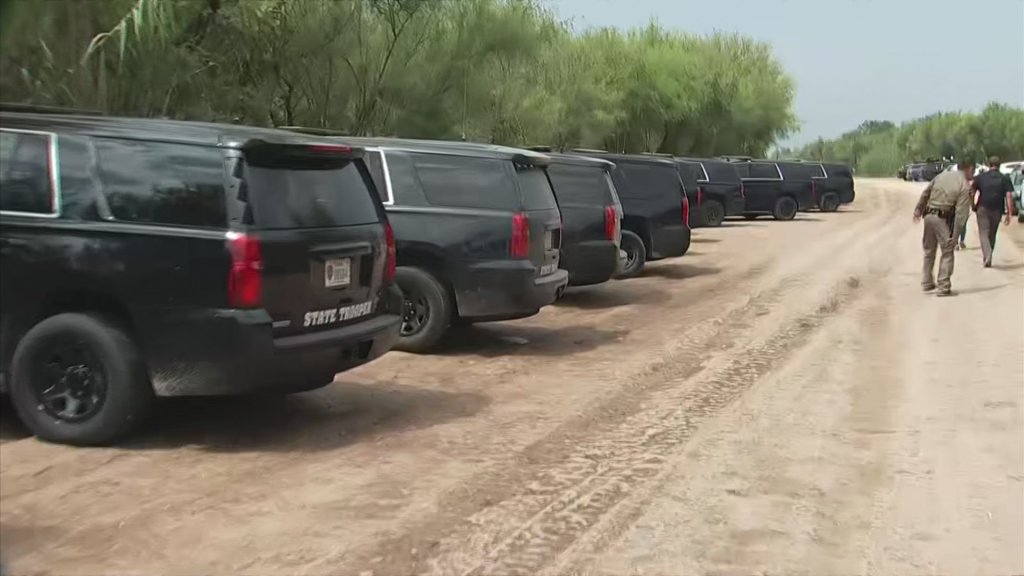 Miles of Vehicles 'Seal' Border in Del Rio; Abbott Says Failure to Enforce Laws Led to Chaos:
Texas Gov. Greg Abbott (R) says the Texas Department of Public Safety and Texas National Guard have sealed the border in Del Rio where approximately 16,000 people, mostly Haitian refugees, have crossed into the United States from Mexico by walking over a dam in the Rio Grande River in the last week.
The governor said Tuesday afternoon that the DPS and Texas National Guard took unprecedented steps to seal off the border by placing DPS and Texas National Guard vehicles along the border to create a makeshift barrier that extends for miles.
"They have created a steel barrier preventing people from being able to cross the border," Abbott said. "One day there were countless people coming across the border, then the DPS put up all these DPS vehicles, and suddenly, in an instant, people stopped crossing the border in this location. That strategy is working."
While most of the migrants have been staying under the international bridge, Abbott also said they are also arresting and jailing people who trespass onto private property or public land. The governor didn't specify how many migrants have been arrested under this policy.
"It's not the Biden Administration catch and release policy, it's the arrest and jail policy, sending a message to these folks and anybody thinking about coming here if they're thinking about coming and crossing this river here in Texas, that you may wind up with handcuffs on your hands going straight to jail as opposed to being released to the general population," Abbott said.
The governor added that migrants are moving to other areas along the Rio Grande hoping to find places to cross into the United States and that he'll redistribute state resources into those areas to prevent crossings. --->READ MORE HERE
Follow links below to related stories:
Texas Gov. Abbott sends miles of cars along border to deter migrants
Texas governor sends fleet of cars to southern border to form barrier
If you like what you see, please "Like" us on Facebook either
here
or
here
. Please follow us on Twitter
here
.