Democratic disunity on $3.5T spending package threatens to tank Biden's domestic agenda:
President Biden's two top domestic priorities, a $3.5 trillion, party-line social spending bill and a $1.2 trillion bipartisan infrastructure bill, appear to be unraveling with disunity among Democrats.
Sen. Joe Manchin III, a West Virginia Democrat and top swing vote for the White House agenda, reiterated his opposition to the bigger package on Sunday. He said it would be improper for Congress to consider spending such a large sum given the state of the economy.
"We have done an awful lot and there are still an awful lot of people that need help, but there are 11 million jobs that aren't filled right now," Mr. Manchin said. "A million people are still unemployed. Something is not matching up."
Democrats are pitching the spending package to voters as "human infrastructure." They suggest the package complements the $1.2 trillion bipartisan infrastructure bill that focuses on roads, bridges and airport projects. The Senate passed the legislation last month.
The bigger bill amounts to a wish list of liberal priorities such as proposals for climate change, amnesty for illegal immigrants, tuition-free community college and expanded health care. --->READ MORE HERE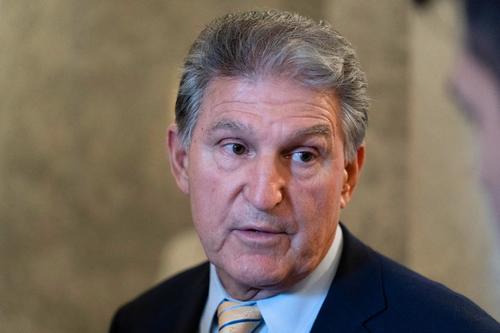 "Something's Not Matching Up": Manchin Refuses To Support $3.5 Trillion Spending Plan:
Moderate Senate Democrat Joe Manchin of West Virginia announced on Sunday that he won't support President Biden's $3.5 trillion economic spending plan, telling NBC's "Meet The Press" that he doesn't want to rush into a fiscally irresponsible deal.
"We don't have the need to rush into this and get it done within one week because there's some deadline we're meeting or someone's going to fall through the cracks," he said, adding "I want to make sure that children are getting taken care of, that people are basically having an opportunity to go back to work. We have 11 million jobs that we haven't filled, 8 million people still unemployed. Something's not matching up there."
Manchin also said that if he were writing the bill from scratch, he'd start by adjusting the tax code. --->READ MORE HERE
follow links below to related stories:
Poll: Majority of Americans support 'pause' on Democrats' $3.5 trillion spending spree
Democrat Support for $3.5 Trillion Infrastructure Bill Falters
Manchin doubles down on opposition to $3.5T spending package: Democrats 'will not have my vote'
If you like what you see, please "Like" us on Facebook either
here
or
here
. Please follow us on Twitter
here
.