Hundreds of Pregnant Women Are Among the Massive Gathering of Migrants Under Texas Bridge:
More than 6,7000 mostly Haitian migrants remain under the Del Rio International Bridge along the Texas border, including more than 300 pregnant women, according to a new report.
Fox News correspondent Bill Melugin tweeted the new information Wednesday morning from Del Rio.
"NEW: This is what it looks like under the international bridge in Del Rio this morning. Latest numbers as of 6 AM.
"6,722 migrants
4,742 family units
1,489 single adult men
418 single adult females
73 family 'groups'
"300+ pregnant women here as of yesterday," Melugin tweeted.
The Biden administration has said it plans to send many of the migrants back to Haiti. However, "family units" will be excluded. This will include thousands of the up to 15,000 migrants who have crossed the Mexican border across the Rio Grande into Del Rio.
"We are releasing family groups (couples who claim female is pregnant). Family units (Families w/ children). All a woman has to do is claim she is pregnant and she will be released. They're asked to please report to immigration within 60 days," Melugin reported from a Border Patrol source. --->READ MORE HERE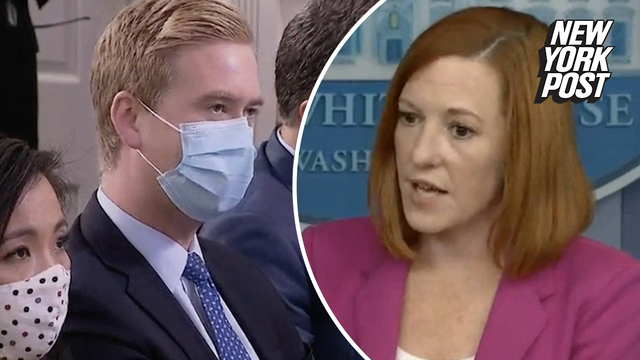 Psaki scoffs at question about Haitian pregnancy claims at border:
White House press secretary Jen Psaki on Thursday scoffed at a question about the possibility of phony pregnancies allowing for the release of Haitians who illegally cross the US-Mexico border.
Psaki brushed off the notion that some of the more than 10,000 Haitian migrants who crowded under a bridge near Del Rio, Texas, last week might be exploiting a loophole to avoid swift deportation under the COVID-19 Title 42 policy.
Fox News correspondent Peter Doocy told Psaki at her daily press briefing that "we're told by our teams on the ground you guys are releasing pretty much all family units, couples where the woman says that she is pregnant or single women who say that they are pregnant, and that nobody actually has to take a pregnancy test."
Psaki interjected: "Are you suggesting you don't believe when women say they're pregnant? Is that a big issue, you think, at the border? You think pregnant women are posing a big threat to the border, to the border communities? Is that a big issue?"
Doocy replied, "You tell me." --->READ MORE HERE
If you like what you see, please "Like" us on Facebook either
here
or
here
. Please follow us on Twitter
here
.