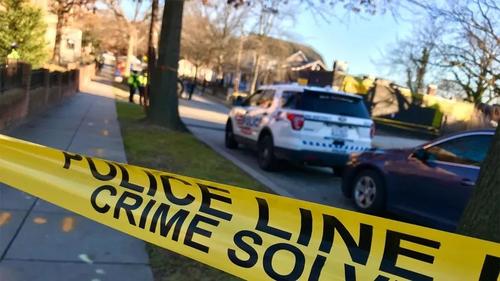 After spending much of 2020 indulging leftist cries to 'defund the police' in the wake of the George Floyd murder and other police-related incidents, liberal mayors and mayoral candidates have made a whiplash-inducing about-face in the wake of a historic crime wave sweeping their cities.
As Politico (!?) notes, "Homicides and shootings are up and the number of cops is down in cities from Atlanta to Seattle. Crime, as a result, is dominating the discourse in mayoral races — driving candidates to talk about beefing up police patrols and bolstering depleted departments' ranks."
"When I talk to people, they're scared," said Atlanta City Council President Felicia Moore - who's running against Kasim Reed for mayor. "We have seen and experienced on a daily basis crime that we just haven't seen before. People know that something has to happen — and they know the first responders to a crime situation are police officers."
It's a far cry from the calls to "defund the police" that took center stage in these cities just last summer. But the sobering reality of rising gun violence and flagrant theft is changing the conversation, pushing candidates to get tougher on crime in Democratic-leaning cities.
Meanwhile, New York Mayoral Candidate and retired NYPD captain Eric Adams handily won the Democratic nomination last month on his pro-policing message vs. his progressive rivals who favored shifting funds away from the police.
Politico also notes a "wholesale shift on policing in Seattle," where the majority of the City Council supported a plan to slash the police department's budget by 50% following cries to defund the police. Now, one year later, homicides and gun violence are on the rise while the SPD now has a "staffing crisis" on its hands due to a record number of officer departures. Unsurprisingly, none of the mayoral candidates vying to replace Mayor Jenny Durkan is outright backing defunding.
So it was all just political pandering. Shocker
City Council President M. Lorena González, a top contender for mayor, supported those calls last year but has since distanced herself from them. In forums, she now talks of fully funding the department's staffing and hiring plan while also investing millions in community-based "harm reduction systems." González, who said she's lost family members to gun violence, is also calling for "common-sense local regulations of guns."

The top-polling candidate heading into the August primary election, former Seattle City Council president Bruce Harrell, has struck a balance between a "strong public safety presence" and promises to "change the culture of the police department." Now, after a weekend of violent shootings that left four people dead and seven injured, Harrell, who had already pledged to create a cabinet-level position to coordinate the city's response to gun violence, is calling for more officers. -Politico
These people...
Read the rest from Tyler Durden
HERE
If you like what you see, please "Like" us on Facebook either
here
or
here
. Please follow us on Twitter
here
.