Migrants get de facto permission to remain in U.S. even though they do not hold a legal status
Congress is starting work on legislation to legalize illegal immigrants, but the Biden administration is already working on what some analysts have termed a "silent amnesty," which would quietly suspend or dismiss thousands of deportation cases pending in immigration courts.
Deportation orders, as a percentage of decided cases, have plummeted to 35% from January to June. That is about half the rate of 2019 and 2020 under the Trump administration.
The number of case terminations has surged even though immigration judges are deciding fewer cases.
Sources within the Justice Department, which oversees the judges at the Executive Office for Immigration Review, said judges are granting continuances in a large swath of other cases, paving the way for termination.
"They're dismissing these cases out of hand, and then ICE is releasing these people from custody," said one department source who spoke to The Washington Times on the condition of anonymity.
Terminating or dismissing a case clears it from the active docket, giving migrants de facto permission to remain in the country even though they do not hold legal status.
Immigration courts don't get as much attention as the enforcement agencies at the Department of Homeland Security, Customs and Border Protection and Immigration and Customs Enforcement. But immigration judges are critical components of the system. They handle cases such as asylum claims at the border and deportation for those caught inside the country.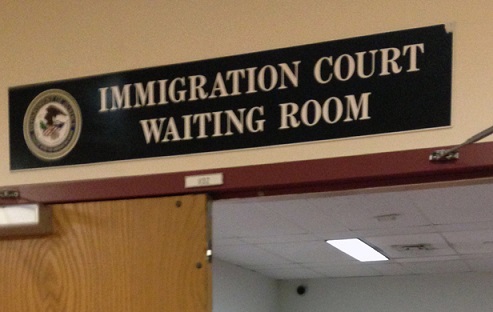 But the courts are struggling to fulfill their role.
• Unaccompanied alien children, or UACs, are mired in the system for years. The latest statistics show the median UAC case has been pending for 1,025 days — or more than three years. That means half of the cases have been waiting longer. The median time to complete a UAC case is 1,653 days, or about 4.5 years.

• Immigration judges are averaging just 132 case completions a year. A government employee is supposed to be on the job 200 days or more a year, which works out to less than one case completion a day. "Even with the changes due to COVID, that's absurd," said one department source.

• The Biden administration has filed just one document fraud case with the Office of the Chief Administrative Hearing Officer. In 2020, the Trump administration filed 18 cases.
The case closures are joint efforts by the Justice Department and Homeland Security, which oversees the ICE attorneys who prosecute the cases and, increasingly, are agreeing to the delays and dismissals.
Read the rest Stephen Dinan
HERE
If you like what you see, please "Like" us on Facebook either
here
or
here
. Please follow us on Twitter
here
.