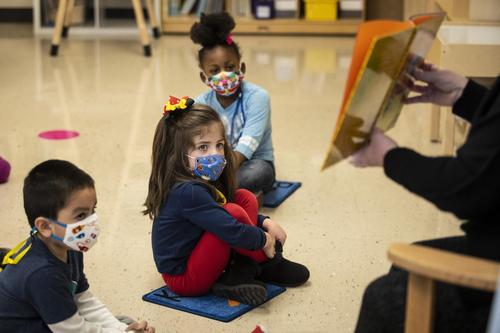 CDC Buries Study Finding That Student Masking Has 'No Statistically Significant Benefit':
Less than three months ago, the Centers for Disease Control published a mostly-ignored, large-scale study of Covid-19 transmission in US schools which concluded that while masking then-unvaccinated teachers and improving ventilation was associated with lower levels of virus transmission in schools - social distancing, classroom barriers, HEPA filters, and forcing students to wear masks did not result in a statistically significant benefit.
A few major news outlets covered its release by briefly reiterating the study's summary: that masking then-unvaccinated teachers and improving ventilation with more fresh air were associated with a lower incidence of the virus in schools. Those are common-sense measures, and the fact that they seem to work is reassuring but not surprising. Other findings of equal importance in the study, however, were absent from the summary and not widely reported. These findings cast doubt on the impact of many of the most common mitigation measures in American schools. Distancing, hybrid models, classroom barriers, HEPA filters, and, most notably, requiring student masking were each found to not have a statistically significant benefit. In other words, these measures could not be said to be effective. -NYMag
According to the report, scientists believe that the CDC's decision to intentionally omit the findings on student masking from a summary of the study amounts to "file drawering" the findings - the practice of burying studies that don't have statistically significant results. --->READ MORE HERE
State-by-state guide to school face mask mandates:
Following guidance from the CDC, some states are now requiring masks for students age 2 and up.
As parents across the nation prepare to head back to school, questions about mask mandates linger. Many moms and dads are wondering: Does my child need to wear a mask for school? What are the rules for masks this year?
Ahead of the 2021-2022 school year, the Centers for Disease Control and Prevention updated its guidance for K-12 schools: Due to the highly contagious delta variant of COVID-19, wearing masks indoors is recommended for ages 2 and older, regardless of vaccination status.
But not all states have mandated masks in schools. Here's a look at the school mask rules on a state-by-state basis. We'll keep updating this story, but since the situation keeps changing around the country, please check with your school or school district for the latest. --->READ MORE HERE
Follow links below to related stories and resources:
:
Nursing homes worry Biden's vaccination mandate for workers could worsen staff shortages
Where are the most people declining COVID-19 vaccines? See how your state ranks
USA TODAY: Coronavirus Updates
WSJ: Coronavirus Live Updates
YAHOO NEWS: Coronavirus Live Updates
NEW YORK POST: Coronavirus The Latest
If you like what you see, please "Like" us on Facebook either
here
or
here
. Please follow us on Twitter
here
.