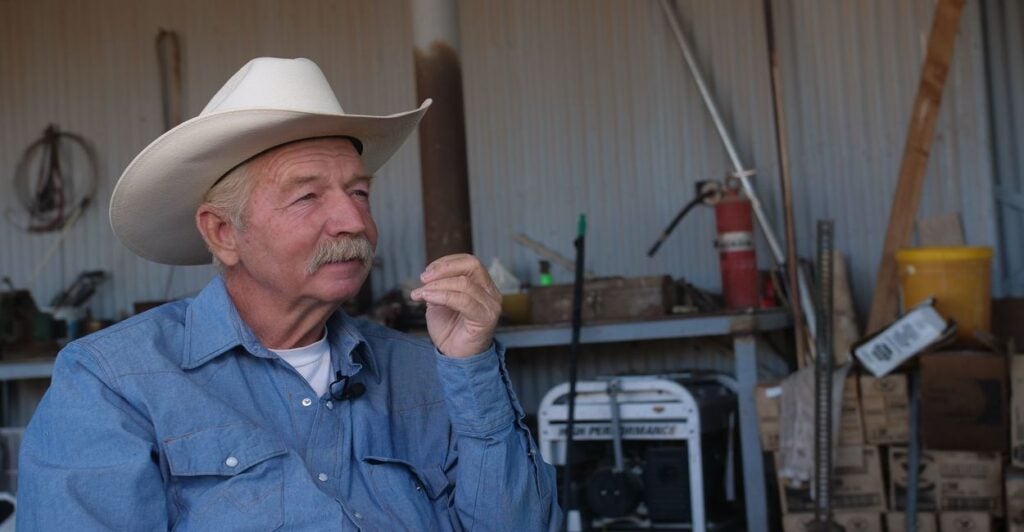 BISBEE, Arizona—John Ladd, whose family has ranched at the U.S.-Mexico border for more than 125 years, says illegal immigrants tell him that President Joe Biden invited them to come.
"The biggest difference with the people coming now is, when Border Patrol catches them, they tell them, they say, 'We're going to stay here, no matter what you do to us, because your President Biden wants us,'" Ladd tells The Daily Signal in an interview on his ranch near Bisbee, Arizona.
Ladd, 66, says he and his family are on constant alert for theft by illegal immigrants who cross the border onto his ranch.
The ranchers also must make sure that cattle haven't escaped and wandered onto the highway because illegal immigrants cut fences, Ladd says.
Ladd wears a blue jean shirt and white cowboy hat, and his hands tell the story of a life of hard, constant work on the ranch. His ranching days began when he was practically a baby.
"I was 2 when my mom had put me in front of her on a horse when we rounded up stuff," Ladd recalls.
"I don't remember rounding up, but I remember I had a little pillow so the saddle horn didn't get me. But she'd hang onto me and we'd go."
Once he was old enough, he got a horse of his own.
"I was 4 or 5 and got a Shetland pony and started riding by myself then," Ladd recalls. "I was a Roy Rogers fan, so I named him Trigger. I guess I was about 10 and my dad taught me to drive the Jeep when I was 8, so I could put feed out when I was 10."
Ladd ranches the same land his parents did, about 16,000 acres that includes 10-and-a-half miles along the border. But times have changed since his parents worked the ranch. His great-grandparents came to the area in 1894.
Unlawful crossings from Mexico into the United States continue to skyrocket, with 178,622 arrests in April and 180,034 in May, according to U.S. Customs and Border Protection.
Read the rest of the story
HERE
If you like what you see, please "Like" us on Facebook either
here
or
here
. Please follow us on Twitter
here
.