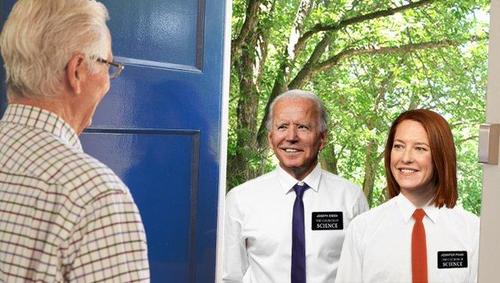 "Ignore No Soliciting Signs, Use Your Script": Vaccine Door-Knocking Documents Revealed:
As the Biden administration peddles its plan to send door-knocking missionaries across America to spread 'vaccine awareness' (and keep track of who's vaccinated and who's not), White House-coordinated FEMA "surge teams" are being assembled to reinforce local efforts on the ground.
In preparation for the coming campaign, Lake County, Illinois has published 'Helpful Hints' for volunteers taking part in their "Community Health Ambassador Outreach Door Knocking Project to Increase COVID Vaccine Acceptance."
BIDEN ADMINISTRATION VACCINE DOOR TO DOOR SALES PITCH SCRIPT pic.twitter.com/yiMqrKIxiv

— The_Real_Fly (@The_Real_Fly) July 9, 2021
The 'Helpful Hints!' include: --->READ MORE HERE
WH slams GOP governors who resist 'door-to-door' vaccine effort:
The White House on Friday said GOP governors who rejected President Biden's door-to-door vaccine effort are fueling attitudes that are "literally killing people."
White House press secretary Jen Psaki also said the governors had mischaracterized the initiative.
"The failure to provide the accurate public health information, including the efficacy of vaccines and the accessibility of them to people across the country — including South Carolina — is literally killing people, so maybe they should consider that," she said.
Ms. Psaki was responding to South Carolina Gov. Henry McMaster, who directed state health officials to thwart door-to-door tactics and said "pressuring" people to get vaccinated would be a disastrous policy. --->READ MORE HERE
Follow links below to related stories and resources:
Rand Paul on CDC Guidance, Federal Mandates on Masks: 'It's About Submission'
What you need to know about the COVID-19 booster shot debate
USA TODAY: Coronavirus Updates
WSJ: Coronavirus Live Updates
YAHOO NEWS: Coronavirus Live Updates
NEW YORK POST: Coronavirus The Latest
If you like what you see, please "Like" us on Facebook either
here
or
here
. Please follow us on Twitter
here
.