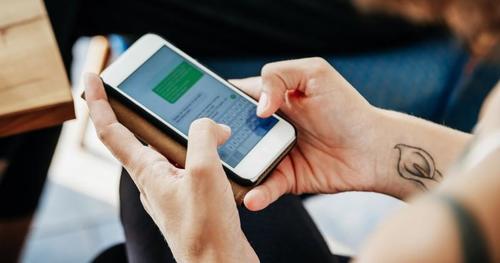 Democrat Groups Plan To "Fact Check" Private Text Messages:
Groups allied with the Biden administration are planning on working directly with cellphone network providers to 'fact check' private SMS messages if they contain "misinformation about vaccines."
The revelation is made in a Politico article which explains how the White House is preparing to characterize "conservative opponents of its Covid-19 vaccine campaign as dangerous and extreme."
The decision to ramp up the information war against vaccine skeptics was made after conservatives showed resistance to the Biden administration's plan to go "door-to-door" to increase vaccination rates. --->READ MORE HERE
DNC, Biden allies want phone carriers to vet anti-vax messages: report
The Democratic National Committee and other White House allies want wireless carriers to scrutinize phone and social media messages for alleged misinformation about the Biden administration's push to vaccinate more Americans against the coronavirus, Politico reported Monday.
According to the outlet, the White House is pushing back harder against critics of its messaging after failing to reach the goal of having 70 percent of American adults receive at least one vaccine dose by July 4.
Part of that effort, Politico reported, is "planning to engage fact-checkers more aggressively and work with SMS [Short Message Service] carriers to dispel misinformation about vaccines".
One SMS message cited by the outlet, sent by Turning Point USA and co-founder Charlie Kirk, read: "Biden is sending goons DOOR-TO-DOOR to make you take a Covid-19 vaccine. Sign the petition to: No medical raids in America." --->READ MORE HERE
Follow links below to related stories and resources:
Mainstream Media Is Wrong: Vaccine Hesitancy Is Not Highest Among Republican Men And Trump Isn't To Blame
California to ban students who refuse to wear masks
USA TODAY: Coronavirus Updates
WSJ: Coronavirus Live Updates
YAHOO NEWS: Coronavirus Live Updates
NEW YORK POST: Coronavirus The Latest
If you like what you see, please "Like" us on Facebook either
here
or
here
. Please follow us on Twitter
here
.