'Alternate reality': Biden on defensive as Taliban advance, Afghanistan crumbles
The Biden administration is scrambling this week to defend its rapid withdrawal from Afghanistan amid a string of Taliban victories that have left the nation's fragile central government apparently barreling toward collapse.
With Taliban fighters now targeting provincial capitals as the final U.S. troops exit the country, foreign policy analysts say that President Biden and his aides have been caught flat-footed by how quickly Afghanistan has spiraled out of control without American troops and air power as a fail-safe against insurgent gains.
The Pentagon's insistence that it can keep an eye on developments inside Afghanistan — including the real possibility that terrorist groups like al Qaeda and the Islamic State will find new bases for operations — from "over the horizon" once American and allied forces are gone is also facing a severe early test. --->READ MORE HERE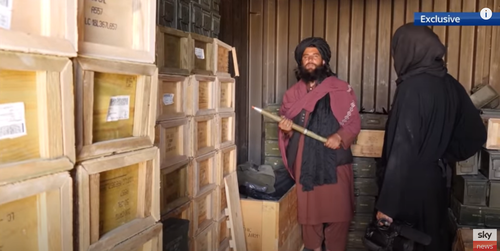 Sky News Shows Taliban Seizing Abandoned US Bases & "Treasure Trove" Of Weapons, Ammo:
Simultaneous to global headlines spotlighting the hasty "in the middle of the night" US forces quitting Bagram airbase for good, which briefly resulted in looting as Afghan security was caught by surprise, Sky News has aired exclusive shocking footage of the Taliban seizing freshly abandoned US bases (or perhaps not-so-shocking considering the constant follies of America's longest ever war).
"The Taliban are on the march and gaining territory at an astonishing rate," the Sky News segment narratives. "They smell victory," the report says. "They want to show us the treasure trove of military riches they seized with it."
That's right - Taliban militants will gear up for the expected offensive on Kabul and other key parts of the country with fresh US-supplied RPGs, rifles, and ammo that were hastily abandoned by exiting US forces. --->READ MORE HERE
Follow links below to related stories:
+++++Taliban Takes Key Border Crossing and Opens Direct Route with Iran, One Third of Afghanistan Now Under Insurgent Control+++++
'Silly question': Biden bristles when asked if he trusts the Taliban
Republicans gear up to hammer Biden as Taliban advance in Afghanistan
Biden sets Aug. 31 Afghan exit date amid Taliban surge: 'Status quo was not an option'
Pentagon mulls options for Afghan interpreters fearing Taliban revenge
If you like what you see, please "Like" us on Facebook either
here
or
here
. Please follow us on Twitter
here
.