You Can Have My Mask When You Pry It off My Cold, Dead Face:
I'm not ready for a future in which I just go around without a visible display of my self-righteousness.
Sure, I've read the studies that say masks probably don't do much of anything, and yes, I've been quintuple-vaccinated. But I'm going to keep wearing my mask forever. It feels like the right thing to do. I know this because it's the opposite of what those horrible right-wingers think. You call this a meaningless strip of fabric; I call it my emotional-support cloth.
Masking up every day when I get out of bed fills me with a sense of calm, wellness, and moral superiority. Frankly, I'm not ready for a future in which I just go around the community without a visible display of my self-righteousness. I suppose I could get a Queen Kamala tattoo on my face or something, but that seems impractical. (What will I do when Alexandria Ocasio-Cortez is president, haha.)
Signaling things to others is a really important part of my identity. That's why I have one of those "DARWIN" bumper stickers on my fuel-efficent Mini Cooper, why I have an "IN THIS HOUSE WE BELIEVE" yard sign (okay, in my case it's a window sign because we don't have a yard in Park Slope), and why I spent nine years getting a Ph.D. in Cultural Studies. Keeping a mask on indefinitely is like shorthand for all of the stuff I want to indicate to others, right there on my face.
I do a lot of things to fight the anti-science people right in my apartment — for instance vigorously disinfecting all of the boxes that arrive and opening them only with rubber gloves on, but it bothers me that no one can see how thoughtful and responsible I am behind closed doors. I mean, do my partner and I get any credit for sleeping in plastic pods so that we don't infect each other? Out of an abundance of caution, these days we make love only on Zoom. But not enough people know that, although I write a lot of letters to the Slate advice columnist asking for tips on how to make our sex life even more socially responsible. I wish there were a way to have vegan sex. --->READ MORE HERE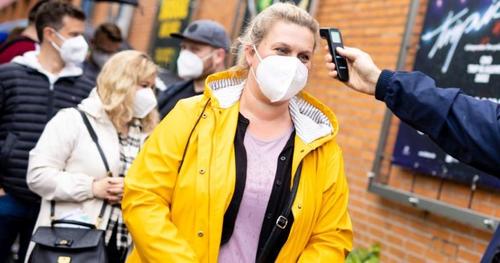 German Study Finds Lockdown "Had No Effect" In Stopping Spread Of COVID:
A major new study by German scientists at Munich University has found that lockdowns had no effect on reducing the country's coronavirus infection rate.
Oh.
"Statisticians at Munich University found "no direct connection" between the German lockdown and falling infection rates in the country," reports the Telegraph.
The study found that, on all three occasions before Germany imposed its lockdowns in November, December and April, infection rates had already begun to fall.
The R rate – the number that indicates how many other people an infected person passes the virus to – was already under 1 before the lockdown restrictions came into force.
As we highlighted last year, a leaked study from inside the German Ministry of the Interior revealed that the impact of the country's lockdown could end up killing more people than the coronavirus due to victims of other serious illnesses not receiving treatment. --->READ MORE HERE
Follow links below to related stories and resources:
Working from home is no longer fun — it's time to go back to the office
Landlords ask Supreme Court to halt Biden administration's evictions moratorium
USA TODAY: Coronavirus Updates
WSJ: Coronavirus Live Updates
YAHOO NEWS: Coronavirus Live Updates
NEW YORK POST: Coronavirus The Latest
If you like what you see, please "Like" us on Facebook either
here
or
here
. Please follow us on Twitter
here
.