oe Biden: 'Terrorism from White Supremacy' the 'Most Lethal Threat to the Homeland':
President Joe Biden asserted Tuesday that terrorism from white supremacy was "the most lethal threat" facing the United States.
Biden spoke about the threat of white supremacy during a speech in Tulsa marking the 100th anniversary of the 1921 race massacre in the Greenwood neighborhood.
"According to the intelligence community, terrorism from white supremacy is the most lethal threat to the homeland today," Biden said. "Not ISIS. Not Al Qaeda. White supremacists."
Biden was likely referring to a statement from acting U.S. Homeland Security Secretary Chad Wolf, who told members of Congress that white supremacy was "the most persistent and lethal threat" to the United States in September 2020. In October 2020, DHS released a report showing that white supremacist extremism accounted for more fatal attacks than any other domestic violent extremist group since 2018. --->READ MORE HERE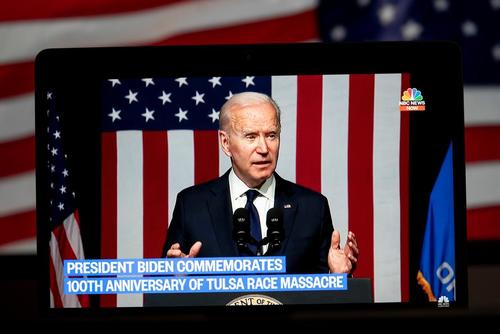 Greenwald: The Democrats' New War On (Domestic White) Terror Has Already Begun...
The Department of Homeland Security on Friday issued a new warning bulletin, alerting Americans that domestic extremists may well use violence on the 100th Anniversary of the Tulsa race massacre. This was at least the fourth such bulletin issued this year by Homeland Security (DHS) warning of the same danger and, thus far, none of the fears it is trying to instill into the American population has materialized.
The first was a January 14 warning, from numerous federal agencies including DHS, about violence in Washington, DC and all fifty state capitols that was likely to explode in protest of Inauguration Day (a threat which did not materialize). Then came a January 27 bulletin warning of "a heightened threat environment across the United States that is likely to persist over the coming weeks" from "ideologically-motivated violent extremists with objections to the exercise of governmental authority" (that warning also was not realized). Then there was a May 14 bulletin warning of right-wing violence "to attack higher-capacity targets," exacerbated by the lifting of COVID lockdowns (which also never happened). And now we are treated to this new DHS warning about domestic extremists preparing violent attacks over Tulsa (it remains to be seen if a DHS fear is finally realized).
Just like the first War on Terror, these threats are issued with virtually no specificity. They are just generalized warnings designed to put people in fear about their fellow citizens and to justify aggressive deployment of military and law enforcement officers in Washington, D.C. and throughout the country. A CNN article which wildly hyped the latest danger bulletin about domestic extremists at Tulsa had to be edited with what the cable network, in an "update," called "the additional information from the Department of Homeland Security that there is no specific or credible threats at this time." And the supposed dangers from domestic extremists on Inauguration Day was such a flop that even The Washington Post — one of the outlets most vocal about lurking national security dangers in general and this one in particular — had to explicitly acknowledge the failure: --->READ MORE HERE
If you like what you see, please "Like" us on Facebook either
here
or
here
. Please follow us on Twitter
here
.