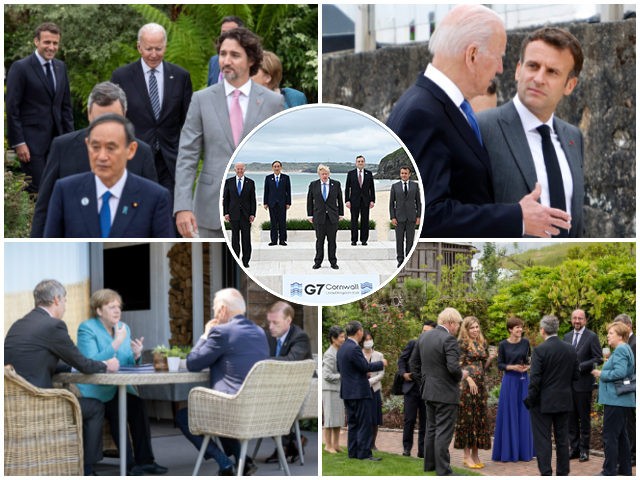 At least one good thing has emerged from the G7 summit: we now know that President Joe Biden, Prime Minister Boris Johnson, President Bieber of Canada and the various other world leaders who've been sunning themselves in Cornwall are ocean-going, copper-bottomed hypocrites.
Note how their personal rules on mask-wearing, "social distancing" [an egregious oxymoron], quarantining and so on differ quite markedly from the ones they've been imposing on us ordinary folk these last 18 months.
Sure, when they're posing for one of their staged photographs they all pretend, for propaganda purposes, that they are Covid regulation compliant:
But look at what they got up to later:
Pointed out by a friend...#G7 Elbow bumps, masks and social distancing for the photo calls but soon abandoned when these 'leaders' are socialising with each other. All the world's a stage - and we're watching them perform. Badly. pic.twitter.com/X6cSfN32Gp

— Sonia Poulton (@SoniaPoulton) June 12, 2021
Not much social distancing at @G7 https://t.co/tiad1CpGva

— christinalamb (@christinalamb) June 12, 2021
--->LOTS MORE HERE
If you like what you see, please "Like" us on Facebook either
here
or
here
. Please follow us on Twitter
here
.