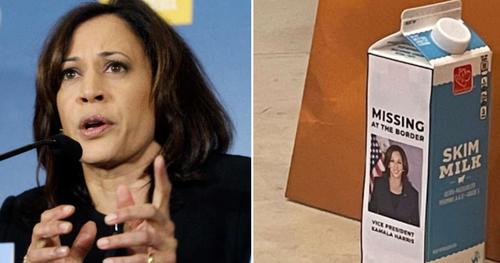 'Border Czar' Kamala Harris Slammed For 'Extreme Avoidance Of Human Crisis' As Apprehensions Hit Two-Decade High:
Two Republican lawmakers have slammed Vice President Kamala Harris for failing to personally survey the crisis at the southern border, shirking her duty as President Biden's 'border czar' - a role she was given in March and has by all outward appearances, abandoned.
In a Monday statement, Sen. Rick Scott (R-FL) said Harris' "avoidance" of the border as "getting extreme," according to Florida Politics.
"Flying over the border at 35,000 feet doesn't count as a visit. Now, 123 days since taking office, it's shocking to see the lengths to which President Biden and Vice President Harris will go to avoid seeing the border crisis for themselves. Apprehensions at the border rose above 178,000 in April alone, nearly 6,000 a day. This is about the safety of American families. We must secure the border now," urged Scott.
"While I welcome cooperation with Guatemala and Mexico," the statement continues, "Biden and Harris have still not acknowledged the humanitarian and national security chaos their policies have created here in America. They still refuse to actually go to the U.S. southern border, hear from our brave Customs and Border Protection agents and see the U.S. side of this crisis that their failed amnesty and open borders policies have created. It's time for Harris and Biden to get down to the U.S. border and provide answers to the American people." --->READ MORE HERE
Flop Sweat: Kamala Harris Runs from the Border
It really requires a heart of stone not to laugh uproariously at today's report from CNN by Priscilla Alvarez and Natasha Bertrand entitled "Vice President Harris' team tries to distance her from fraught situation at the border":
In the weeks since the President asked her to take charge of immigration from Central America, Vice President Kamala Harris and her staff have sought to make one thing clear: She does not manage the southern border. Two White House officials familiar with the dynamic said Harris and her aides have emphasized internally that they want to focus on conditions in Central America that push migrants to the US southern border, as President Joe Biden tasked her to do. . . . Biden announced Harris' new assignment on March 24 . . . telling reporters that he had asked the vice president "because she's the most qualified person to do it, to lead our efforts with Mexico and the Northern Triangle, and the countries that can help, need help in stemming the movement of so many folks, stemming the migration to our southern border." After the announcement, Harris' aides appeared to "panic," according to one of the officials, out of concern that her assignment was being mischaracterized and could be politically damaging if she were linked to the border, which at the time was facing a growing number of arrivals. But another White House official pushed back on the sentiment, saying the vice president's team wasn't panicked. --->READ MORE HERE
Follow links below to related stories:
+++++Sen. Cruz uses Monty Python movie clip to needle Harris on failing to visit the border+++++
Harris Doesn't Even Consider Security In Her Laughable Efforts to Deal With the Border Chaos
If you like what you see, please "Like" us on Facebook either
here
or
here
. Please follow us on Twitter
here
.