Even Without Social Media, Trump Finds a Way to Shape the News​::
Tim Murtaugh served as communications director for President Donald Trump's re-election campaign last year, witnessing firsthand how a single tweet could dominate the news cycle. Now, with Trump banished from social media platforms, the former president is still finding a way to wield his influence.
Through daily postings on current events and political issues, Trump is once again commanding attention. Murtaugh, a visiting fellow at The Heritage Foundation and Daily Signal contributor, explains what it means on the latest episode of "The Daily Signal Podcast."
"President Trump absolutely has a way of throwing a wrench into a news cycle if he so chooses," Murtaugh tells me. "And as much as the media likes to pretend that, oh, they hate President Trump and they're tired of the tone and the mean tweets and all that stuff, they can't get enough. And so when he puts out statements, it really does roil the news cycle for that given day."
Listen to the podcast below or read the lightly edited transcript. --->READ MORE HERE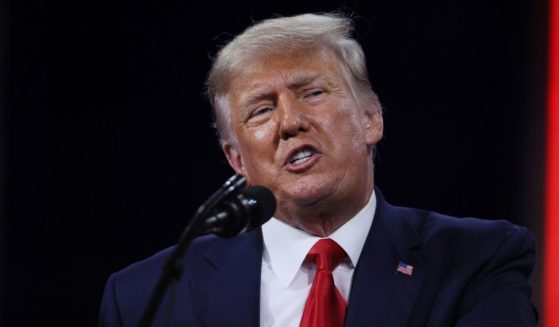 If Trump Were to Run In 2024, New Poll Shows He Would Dominate the Race:
Perhaps the positive results of this new poll will finally lead Donald Trump to throw his hat into the ring for the 2024 presidential election.
The former president has previously said that he is looking at the possibility "very seriously" but "it's a little too soon" to announce his campaign.
The May 2021 poll shows that Donald Trump would come out on top as the winner if he were to run in the 2024 presidential election against Vice President Kamala Harris.
When polling likely voters for the general election, national survey research company McLaughlin & Associates discovered that more than three-quarters of Republicans would vote for Trump. In fact, an astounding 83 percent of likely Republican voters would cast their ballots for Trump in the general election.
Trump has nearly unanimous support in the Republican Party and seems to be favored above all other potential Republican candidates. --->READ MORE HERE
Follow links below to Trump related stoties:
Trump Makes a Big Splash on Bongino Radio Premiere with 2024 Answer
Trump responds to Dan Bongino's 'we need you' pitch for 2024: 'We are going to make you very happy'
Trump Sued by Chinese-American Civil Rights Group Over Calling COVID-19 'China Flu'
Trump proclaims 'I was right' as HHS chief urges WHO probe into Wuhan 'lab leak'
The real story of Trump's Secret Service
Trump Sends a Clear Message, Says Arizona Attorney General Must 'Put Himself in Gear'
Divide and conquer: Former Trump aides hope new rivalry helps sustain MAGA movement
Trump endorsement boosts GOP primary rival to pro-impeachment incumbent Anthony Gonzalez
'Trump Force One' getting 'restored' for future rallies
Sean Davis: Jan. 6 Commission Is A 'Nonsense' Partisan Power-Grab, Just Like The Mueller Probe
If you like what you see, please "Like" us on Facebook either
here
or
here
. Please follow us on Twitter
here
.