The Biden administration took over the government with the wind at its back thanks to Donald Trump. With the COVID vaccines reining in the pandemic and things getting back to normal, all Biden had to do was not get in the way of success. But a lingering Trump Derangement Syndrome, and a leftwing, noisy base eager to complete Barack Obama's "fundamental transformation" of the U.S., have led at home and abroad to actions and policies seemingly calculated to compromise our interests and security and erode our political freedom.
We can start with our southern border. Trump's initiatives such as building a wall, stepping-up deportations, and striking a deal that kept asylum seekers in Mexico had slowed considerably the number of illegal crossings, leading to a reduction in violence from gangsters like MS-13 that flourished in so-called sanctuary cities; the end of the catch-and-release policy that dumped unvetted aliens into the country's interior; and limiting the cruel deaths of children on the trek north.
But these successful policies interfered with the bipartisan need for de facto open borders to provide cheap labor for Wall Street, and more voters for the DNC. More important, no matter how successful, such polices were tainted by the "wicked" Donald Trump, the populist bull that wrecked the political establishment's remunerative china shop. So they had to go.
The result has been a return to the Obama era's spectacle of children and teens packed into squalid holding pens, increased infestations of cartel traffickers in people and drugs, and two consecutive months of about 175,000 apprehensions of border-crossers each month––the highest in two decades. All reports from those on the ground––from border patrol agents to residents to local government agencies––indicate a serious crisis that will insidiously spread across the country. But president Joe Biden is instructed to say that such influxes happen every year at this time, that Donald Trump left a "Godawful mess," and that "We've now got control" over the ongoing stampede of border-crossers.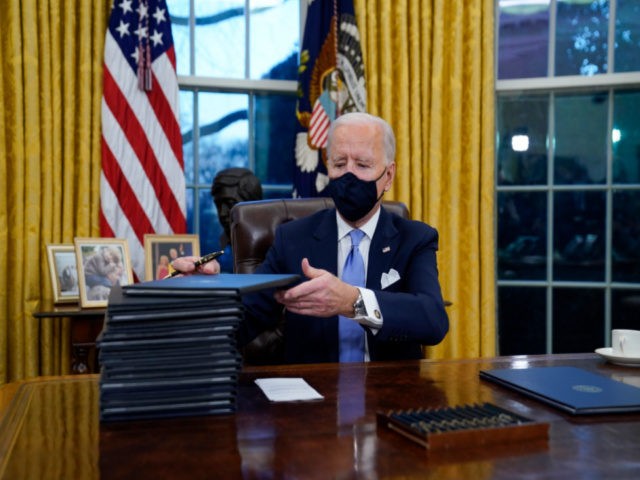 Then there's the paradox of 8 million job openings––thanks to the vee-shaped economic recovery that was well underway when Biden took office––many of which can't be filled. Even the promise of cash bonuses and higher pay can't attract workers. Why? Because his $1.9 trillion "COVID relief" bill actually does little to alleviate the pandemic's effects, but a lot for bribing voters with free money, and spreading around payola to blue states and "woke" businesses. One such provision bumped up state unemployment payments by $300 a week, largess that will continue until September.
Unsurprisingly, 44% of small business owners report that they can't fill vacancies, and one-fourth of the openings have been left unfilled. And though a projected million jobs were supposed to be created in April, the actual number was 266,000. You don't have to be an economist to know what's going on. When you can make more money on unemployment than you do working, why work? And why create jobs you can't fill? That moral hazard should have been considered before doling out more cash.
Read the rest from Bruce Thornton
HERE
Follow links below to related stories:
Joe Biden Takes 94 Executive Actions on Immigration in 100 Days
Poll: Overwhelming Majority of Voters Not Impressed by Biden's First 100 Days in Office
In 100 Days, Biden Has Proposed $6 Trillion in New Spending
A Border Crisis of Biden's Own Making
Biden's First 100 Days: A Radical Transformation Of America
If you like what you see, please "Like" us on Facebook either
here
or
here
. Please follow us on Twitter
here
.